Our researcher Dr.. Claudia Bambs is recognized along with other PUC researchers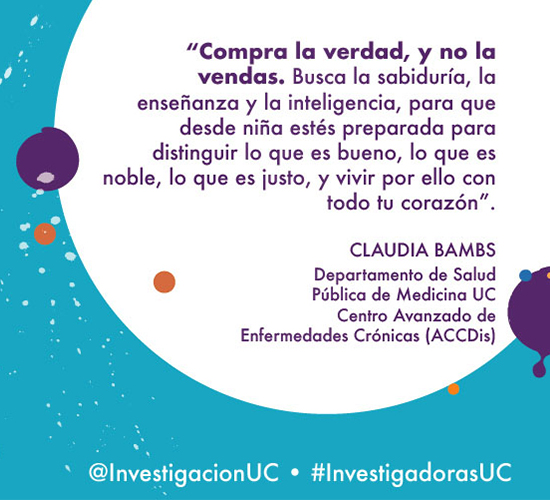 The Research Directorate will also hold researchers at the Catholic University throughout the month, through the "Message to Your 6-Year-Old" campaign, who seeks to inspire women of all ages who could become the next generation of UC experts.
This March 8th for International Women's Day, UC Vice-Chancellor of Research, Pedro Bouchon, pays tribute to all the researchers at the university, through the following greeting:
"Determination, leadership and motivation, are some of the qualities that stand out to our UC Researchers. Women who, from different areas, make a difference and actively contribute to the common good.
It is a pride for us to have outstanding academics who every day combine the challenges of daily life with the great questions that actively contribute to the development of knowledge and its impact.
This month, some of our experts will share valuable tips to inspire more women and generations of researchers and creators to come, to dream of the richness of discovery.
Congratulations on International Women's Day", UC authority said.
On the other hand, actions for "Women's Month" began since March 1 for the Research Directorate with a campaign, in which leading university experts send advice to the 6-year-old girl they were and who dreamed of researching. The initiative that will be developed all month on the Twitter account: @InvestigacionUC and looking to inspire the next generation of UC scientists and creators.
Read full news here investigacion.uc.cl