Our researcher Dr.. Catterina Ferreccio participated in the Ideal Port Festival of Antofagasta 2021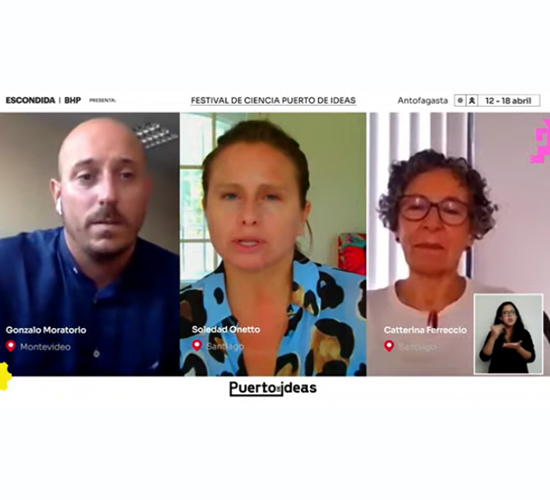 "Rationality was not used to control the infectious", affirmed the UC academic, Catterina Ferreccio. At the end, "that forced us to a measure that has caused damage that will last a long time", added in reference to the national confinement that is already a year old. The specialist made the approaches as part of a talk at the Puerto de Ideas science festival, which concludes this Sunday.
Chilean health care doctor Catterina Ferreccio noted this Saturday that one of the lessons of the pandemic is the need to isolate and trace the first infected from a disease, something that didn't happen in March 2020 with the coronavirus.
"If you isolate them from the infectious, don't isolate the healthy", pointed to the senior UC professor and deputy director of the Advanced Center for Chronic Diseases (ACCDiS ).
"Since we don't ings them to the (First) 400 (Infected), in the end we edies seven million. Rationality was not used to control the infectious". In retrospect, "that forced us to a measure that has caused damage that will last a long time", added in reference to the national confinement that is already a year old.
Ferreccio made the statements during the talk "Latin America vs. the pandemic: Is it time for local science?", within the framework of the Puerto de Ideas science festival, which runs until this Sunday online, where he shared with Uruguayan virologist Gonzalo Moratorio in a space led by journalist Soledad Onetto.
Strengths and learnings
The specialist began by highlighting the strengths and learnings of the pandemic in Chile. One of them has been, in his view, dialogue between scientists and authorities to address the health emergency, in a country that "isn't used to making public health decisions based on knowledge". In fact, in his view, science is just one of the elements to consider, "and the effectiveness of decisions is being lost".
"That dialogue started very weak. It's been getting better., has helped is that the Ministry of Health has invited researchers. A dialogue has been opened, who's part of getting to know each other", said, while asking that the relationship between science and public health managers not be lost in the future.
It also celebrated the collaboration of the newborn Ministry of Science, who served as "bridge" between investigators and the authorities. "The pandemic has approached scientists and politicians. There's closeness, but it has its tensions", Admitted.
Moratorium, for his part, talked about "political and non-scientific failure", and noted that this synergy between public health and science "arrived to stay, to face a world where these events are going to become more frequent by climate change", and that it even depends on us in the future going back to the "old normal".
The Uruguayan also noted that the pandemic has been an opportunity to give more relevance to the science.
"Children used to comment on footballers, today about scientists. The impact of scientists is to make everything more sustainable, in the environment, renewable energy. Industrial development needs to be rethed. That there are policies that make large companies invest to make their products more sustainable. Insertion policies must be promoted in all fields, betting on public and private capital", said.
"Rich countries don't invest in science anymore because they're rich, but because at some point they made the decision to invest in science in the productive matrix, Scandinavia or South Korea", added, and assured that that decision, taken in the 1970s, is now in its superior economic development.
Driving in Latin America
When consulted on the management of the pandemic at the Latin American level, Moratorio said he believed "we haven't done well".
"We became the epicenter of the pandemic. Being the last geographically beaten we could have taken information from countries like Italy to anticipate and avoid an ICU saturation destination, and get to the point of having to choose who lives and who dies", which is what finally happened.
Although he admitted that "there are handling and handling", with extremes like Brazil, insisted that "we could have done things better".
Ferreccio stressed that in the Chilean case there were some positive facts.
Specifically, indicated that President Sebastián Piñera "has been on horseback the subject, Leading, listening to and managing what it does. That's important because the problem is given maximum relevance. He has been agile in managing the Ucis, fans and vaccines. That allows us to have a lot of vaccinated people. We can't deny that.".
Weaknesses of the Chilean case
However, said the downside has been public health.
"It was an area that was not heard. We could have been like Australia or Vietnam, because our borders are controllable. The first 400 cases in March came in Europe or the United States. What we should have done was isolate them so that they wouldn't spread around them.. That wasn't done because there was a vision of responding with hospitals. That caused the infection to spread", Regretted.
"We were terrified of the pollution of the East (of the capital) to the rest of the city, And so it was. We feel that epidemiology was not heard, everyone counted the fans. We could have done better.. Today the variants function as another pandemic. Now it's getting better with an exam at the airport, etc", although it doesn't seem to be enough in terms of traceability.
He indicated that today traceability was two people, but in 48 hours an infected person can have 30 or 40 contacts, and that resources are lacking to stop the transmission. In addition "winter is a threat, because we're going to close the bus windows", said, alluding to enclosed spaces increasing the chances of contagion.
The specialist put hope into the antigen test in primary health, to find out if a person has the virus, even with saliva. The result is in 30 minutes and its traceability "it's much better than calling 3 or 4 days later. I'm very hopeful about the antigen test.".
Another weakness, in his view, has been the risk communication towards the population, "why, when, How, so people understand what's going on. Risk communication is a debt. Hopefully we can fix it in what's left".
Moratorium added that "this pandemic forces us to develop molecular surveillance, know what's circulating, where, how it comes in, be able to read the genetic instructions of each virus, to discover new variants and their differences", recalling that before the pandemic flew a million passengers a day down the globe.
You have to "rething health systems, on the intercom, speed of alert, communication, to do studies and evaluate measures. What is your action against the immune response, the vaccine, your stay in an individual? There are many questions".
The Uruguayan case
On the occasion, Moratorium was also consulted on the case of Uruguay, which at first seemed to be a success story, but whose indices have worsened in recent times.
At first "good things were achieved, how to provide free PCR across the country and border closure", as well as an alignment between scientists and politicians.
However, that same alignment then "began to falter, because we were victims of our own success. Victory was sung early".
"Vaccines are not the end of the pandemic overnight, because waves of contagion can complicate those processes. Uruguay never had strict confinement, there was always freedom, only time for opening up business activity was regulated".
He also said that at first there were few contagions, and that in November there were 900 cases per million: there weren't even 3.000 Cases.
"There was a false sense of success. Today we are on the podium in model vaccination, 26% of those vaccinated and a decline in (of evil) on health personnel. It's a delicate and difficult balance".
However, stressed that confinement impacts the poorest, "because others did very well".
"States should not be afraid to borrow and support the vulnerable, like the casual ones who go out to gain weight day by day. In addition, isolation has a very large psychological cost. Studies will be very important to understand the impacts on education, parenting".
Read information at www.elmostrador.CL