Our researcher Catterina Ferreccio, designates: "The situation can slip out of hand, much more than in April"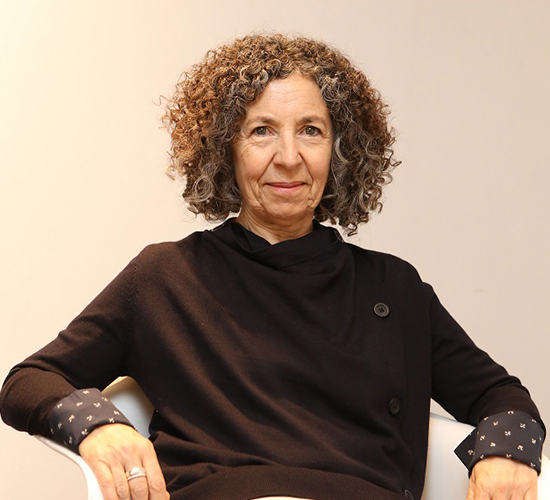 Member of the Covid-19 advisory board and one of the most prestigious epidemiologists in the country, Dr. Ferreccio says it is urgent for the government to give clearer messages to citizens: that the virus is far from being tamed, that vaccines are not going to arrive before April or May and that hospitals now can collapse.
Santiago is with the red light. Rising contagions and a sense of relax contributed to the government declaring a phase 2 setback in the Metropolitan Region. The decision was a sledgehammer for the Santiaguinos, but it wasn't so much for the experts who had already been observing alarming figures in the advance of the pandemic.
Dr. Catterina Ferreccio is not only part of the Chilean Society of Epidemiology, but also a member of the Covid-19 board that advises the government on this matter. And while I wasn't aware of the measure, Fully supports it. He believes that a warning signal had to be given because now - unlike last April- the hospital system is at the top and no longer has the option to refer patients to regions. What seems like a no-brainer is an essential part of the collapse that this second wave could generate.
Researcher at the Advanced Center for Chronic Diseases, this epidemiologist has followed the step by step of the pandemic in Chile and the world. That has required him to study, be very up to date, to be able to solidly base their points on the table that advises the government.
– Was such a braking necessary? Was he discussed on the advisory council?
-The first thing is that yes, I agree with the measure. And the second thing is, we didn't talk about it.. We found out at the same time as the entire population. Other times we have also learned from the press about issues that concern us. In this case, we've been very concerned about slow growth, but sustained infection rate, both in the Metropolitan and in other regions.
– What factors are at stake in MRI?
-MRI is the one that cares most about the population density we have and because we already know what happened when it went off in the first stage. In this sense, it's a good measure to try to lower the contagion numbers that have been growing for several weeks. On the other hand, people are in an attitude that this has already happened, that the holidays are coming. But that's what you want; it's not the reality.
"We already have 90% of ICU occupied in MRI. And that's a key issue. When this departed in April, MRI was the only place that presented cases. Then, when the ICU was overwhelmed, we could send patients to other hospitals in regions".
– Was it that a rather psychological effect was installed to loosen a little?
-Of course, and the problem is that what you'd like to go on vacation is prevailing, seeing friends, to the family. Then, this blow was necessary, because we haven't been able to stop the transmission. Backwards, it's increased.
– In addition to contagion, what else are you worried about?
-We already have 90% of ICU occupied in MRI. And that's a key issue. When this departed in April, MRI was the only place that presented cases. Then, when the ICU was overwhelmed, we could send patients to other hospitals in regions. Now we can't do it, because those ICU are also busy. Those are the criteria that are weighing today.
– There are frustrated people, that you didn't see such a drastic measure coming...
-It is that one has to look at the trend of numbers. Cases were increasing by almost 20% and ICU is at 90% across Chile, with several other diseases. If the Covid-19 goes off, catches us with little reservation. In April, cases could be sent to Concepción and the Valparaiso region. Now, ICU are full of the sick who had been put off and aggravated. If the coronavirus increases, we won't have the slack we had eight months ago.. And if you add to that the enormous mobility that is in this age, compared to April, it was very dangerous not to take more drastic measures. In addition, many Chileans are going abroad and coming back with a new strain that is more communicable.
– How's that about a new strain? Did the virus muta?
-It has been detected that there is a strain that replaced Wuhan's in many parts of Europe. It is much more communicable and affects young people more. The English recently studied it and here we ask the ISP to analyze that strain.
– Could that explain greater contagion?
-You can explain the acceleration. It is very likely that many travelers are returning to the country with a virus that is more communicable. In addition, there's a lot of population traffic within Chile. That's also a factor. We're in a different time.. In April, we were coming on vacation and we locked ourselves in. But now we're moving in and out of the country. Then, really the situation can get out of hand much more than it was last April.
– In this sense, isn't it a little inesputable for borders to be kept open?
-Well, I think that openness is going to have to be reviewed. The situation is really complicated. We never agreed with that openness..
"It is very likely that many travelers are returning to the country with a virus that is more communicable".
– Sometimes messages are contradictory. From the President walking around without a mask until the MRI closes on weekends, but the mall is still open...
-I think we have two powerful deficits. On the one hand, although today there is a containment strategy, we have a serious communication deficit. Lack of sharpness, messages to the population are contradictory, they have ambivalent things and that produces perplexity in people. That's a debt that's urgent to resed. We have to align the communication and explain what we're talking about. People get confused.
– And what's the other deficit you see?
-The other big deficit is the isolation of the infectious. And that's also related to the communication problem. People have a hard time accepting isolation, but it's the only way for the infection to be contained right now. And I must say that I'm also concerned about what we're seeing with vaccines...
– In what ways?
-In that the availability of vaccines is not going to be so safe. It is highly likely that it will take much longer than we think. I am referring to having a vaccine to cover a significant number of the population. That's not going to happen in the short term.. Therefore, that's also an issue that needs to be communicated in a good way. The population should know that this is going to take longer because, Apparently, laboratories are decreasing their cheerful estimates of how many vaccines they could produce.
– But Minister Enrique Paris said the vaccines were about to start arriving in December...
-I've always said it's april or May. And what we're seeing now is that some labs have diminished what they had said they were going to produce. That's always what happens.: you encounter input problems. That's what happened to the PCRs.. How everyone starts using the same inputs, are scarcer. Apparently that's also going to happen now with the production of vaccines.
– And in Chile we're not insured?
-Yes, but we're tail hair, as people say. What we're seeing in the United States and Europe is that the labs that are on the first line of production, are lowering the calculations of what they could produce. I think that since the U.S. government was the one who funded the Modern and Pfizer vaccine, their first obligations are to them. Not with us., even if we have a promise.
– Then, shouldn't we have the illusion that we'll see the light quickly?
-No, Quickly, No. Yes, there will be small amounts for staff who are in the ICU, especially so they don't have to go to quarantine and we can count on the shock staff, but there probably won't even be availability for all health personnel, that's hundreds of thousands.
– And the at-risk population? In England we see that older adults have been a priority.
-Yes, but we're talking about very big numbers. If you think about the 3 million adults over the age of 65, it's 6 million doses. That's the bare minimum.. And health personnel are hundreds of thousands more. I mean,, we're talking about about 4 million people who have been on the front line since March: ICU health staff, the carabinieri who have been controlling, supermarket ATMs, more vulnerable people by age. I mean,, are several million doses that need to be multiplied by two, because almost all vaccines that are ready to use, are 2 doses. Those numbers are the ones I don't see coming until the end of the first trimester.. But, well, The Coin knows more than I do. They're in those negotiations.
"The big risk today is that hospitals can be overtaken".
PAULA DAZA: "MORE EMPOWERED"
– Do these measures respond to a more aligned strategy? In the first wave we saw important differences between the experts and former Minister Mañalich.
-Today there is a strategy to contain the epidemic that was not in March or April. That strategy is being led by Undersecretary Paula Daza. She understood that if we don't stop the flow now, this new wave could get worse because of the problem of hospitals. They're no longer all available.
– Would you say this regrowthe could be catastrophic, as the health minister himself said? What does the medical community say?
-We're not talking about catastrophic, but there are elements that worry a lot if we compare them to the first wave. For example, now there's a lot more volume of contagion. Second, the cases were concentrated in Santiago. Then, all the strengths of hospital strategy, which was an integrated national system for intensive care, was super good when it was just Santiago. But that doesn't run now.. The big risk today is that hospitals can be overtaken.
– Looking at what's happened in Europe, Are regrowns more aggressive because more people die?
-At first, when the regrowns broke in Europe and the United States, you could only see the volume of cases. But mortality in these countries has already surpassed the first wave. In this sense, the regrowthe has been more aggressive. But not because the disease is more serious, but because the volume is bigger. The other thing is that when comparing the first and second wave, you have to be clear that before there was no diagnosis in any country in the world. Everyone lacked the PCR.. There were no inputs. And only those who arrived at the hospital were made PCRs with a strong suspicion of the virus. That's why on the first wave there were more dead than cases. That changed.. Today we have more cases than deaths. But that's because before there was no diagnosis. Not because now the disease is more benign.
"WE HAVE LITTLE TIME"
– You are part of the advisory team, is the country on a better foot to face a regrown?
-In the hospital part we already know what needs to be done. I am confident that the undersecretary of Healthcare Networks - who has run clinics just like Mañalich and therefore have the same profile- , can do good handling, although we already know that the hospital system is going to be fuller. But what worries me most is that we need people to really do things so that it doesn't get infected.
– In addition to hand washing, mask and social distance, what else should be promoted?
-For example, we need older adults not to get infected by Easter. Neither do the obese, hypertensive, diabetics... We need them not to be exposed. But people are tired and we haven't told them clearly why they don't have to expose themselves these days. I'm very concerned about that.. We're short on time.. I'm terrified of Christmas and New Year's Week. In this sense, it's a good sign to move to phase 2 to all mri. Turn on a red light for people. But now the message has to come.
– Hasn't it all been said, Already?
-I think it must be reiterated that it is a serious illness, it's a disgrace to grab it. Explain that if you go into the hospital you're going to have a great time. You won't be any sick. You'll be a sick man who's drowned., that put tubes all over it, that gets delusional, that you're spoiled by several organs. It's very hard.. And that when you leave the hospital, you get sequels for 9 months. There are still people with aftermath of the first wave. Coronavirus is not a flu. It's not a flu.. It's not like they're going to put oxygen on you and you're going to be okay.. No, No. It's much more serious and it needs to be said clearer.
"Coronavirus is not a flu. It's not a flu.. It's not like they're going to put oxygen on you and you're going to be okay.. No, No. It's much more serious and it needs to be said clearer".
– Has there been a lack of clarity in the message or is a cheaper message also prevailing?
"I think this tension between economics and health is what generates double discourse, ambiguities. But by now we know how this disease hits all countries. There are young people who grab it and nothing happens to them. But there are young people who end up on chronic dialysis. My point is that you have to start showing the other side of the disease.
– Should they be more landed messages to people's daily lives?
-I believe that the communication message for this end of the year is that we have to spend it with the same ones that we have been with in these months. Stay in that same bubble and the other relatives to zoom in on them. It's been 9
– Then, can we talk about consistency in the Covid-19 strategy?
-We are advisors to the Ministry of Health and in particular to the Under-Secretary of Public Health. I think she does have a strategy and that's the one that should prevail in The Currency. Sometimes it's your turn out. Sometimes it doesn't. But she's clear on the road and she's been moving forward.
– How do you notice?
-Today she is much more empowered than she was with the previous minister. It has been able to move forward in a strategy and we feel a little safer in the sense that we see that there is a breakthrough. What remains for us is the communication issue that is re serious. It's very important for people to understand why things happen and better understand the measures.
– In line with the topic of communication messages, what image does the President see without a mask?
-I don't know how to judge it. It's hard. I think he's like all the people who are so eager for this to happen. Maybe they think the worst is over.. But both Minister Paris and we, we've said we're not sure the worst thing is what we live in. It can be worse.
– The worst is to come?
-If we can't communicate clearer messages and people relax, could be worse because the hospital system is already saturated and medical equipment is depleted. And if we fill ourselves with that new strain with all these little journeys that are being made, we could have a much bigger wave of contagion.