We congratulate our ACCDIS researchers on their recent achievements in the scientific community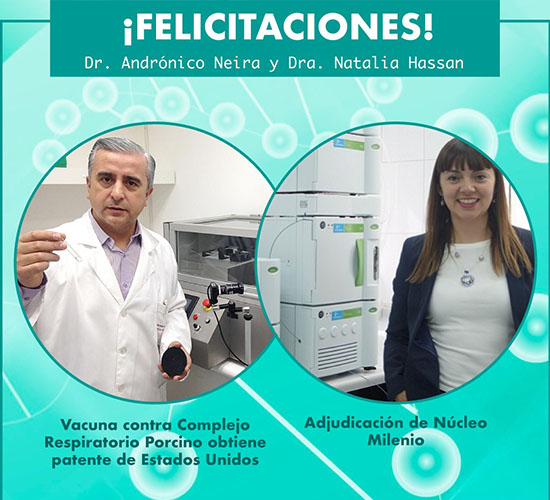 Recently Dr. Andrónico Neira with his research team confirmed by Dr. Sergio Bucarey, of the Veterinary Biotechnology Center (Biovetec) and Víctor Neira, of the Animal Virology Unit, obtained their patent for #EstadoUnidos for the development of a vaccine against Swine Respiratory Complex.
The innovative formulation based on material from crustaceans, developed by researchers from the Faculty of Veterinary and Livestock Sciences (Favet), may be marketed in the North American country, expanding the market of this invention that controls one of the pathologies that most affects the commercial production of pigs worldwide.
On the other hand, the Dra. DRA. Natalia Hassan, together with his research team were awarded a Millennium Core "NanoBioPhysiscs" (N2BP)" which will focus on the study of nanoconfinement of solvents within nano-sized cavities, that will help to elucidate certain biological phenomena that require nanoconfined water to perform their action, as is the case with certain membrane proteins.
The second branch of this nucleus, proposes to study the effect of nanotubes and amino acids and their effects on voltage sensors.
The nucleus is composed of an interdisciplinary group of scientists from the Santa María University, University of Valparaíso and Metropolitan Technological University.
Congratulations to Dr. Andrónico Neira and Dra. Natalia Hassan researchers of our line of study "Nanomedicine and science and chemistry for the diagnosis of and therapy of cancer and cardiovascular diseases" directed by Dr. Marcelo Kogan