Diálogo "Las Universidades públicas en el siglo XXI"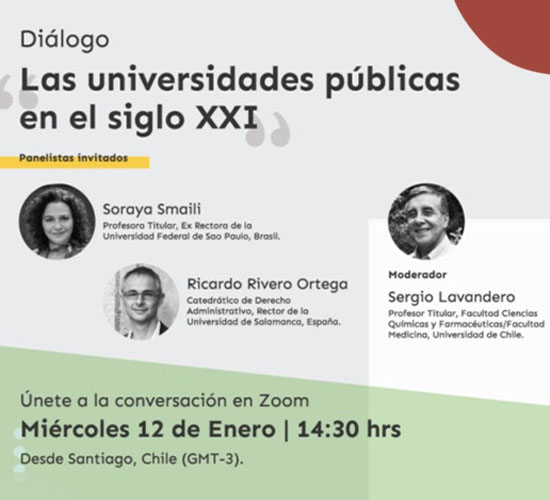 Thinking the U calls for Dialogue "Public universities in the twenty-first century", activity to be developed via zoom on January 12, 2021; in the opportunity we will have the presence of:
Soraya Smaili

.

Profesora titular

,

ex Rectora de la Universidad Federal de Sao Paulo

, Brazil.

Ricardo Rivera Ortega

.

Catedrático de Derecho Administrativo

,

Rector de la Universidad de Salamanca

, Spain.
La instancia contará con la moderación de Sergio Lavandero, profesor titular, Facultad de Ciencias Químicas y Farmacéuticas, Faculty of medicine, University of Chile.
Registrations here https://docs.google.com/forms/d/e/1FAIpQLSckvezxH58iV-P5y0sr94hugh5jRK64bQBcLok4unrf3lkXhQ/viewform