Attention! Microscopic Photography Competition: "Explorador@s of the Microworld"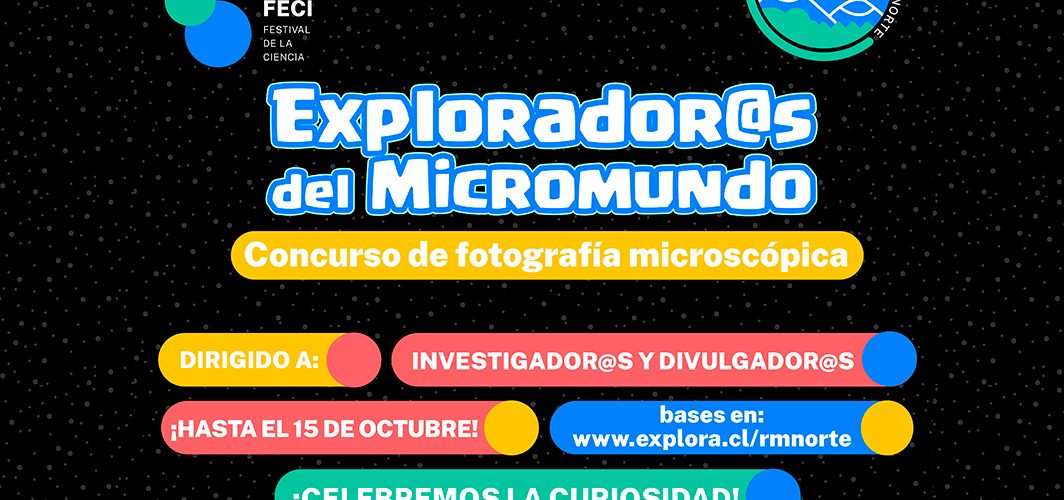 Our PAR Explores RM Norte, invites professionals from different areas of science, technology, knowledge and innovation, to send pictures of images taken under a microscope, which if selected, will bring the Graphic Exhibition to life: "Explorador@s of the Microworld".
The Exhibition "Explorador@s of the Microworld" will be part of the Science Festival (FECI), celebration organized by the Ministry of Science, Technology, Knowledge and Innovation and Explora Projects from all over Chile, whose motto is "Let's celebrate Curiosity". FECI's goal is to "Position science, technology, knowledge and innovation (CTCI) in the collective imagination as part of the culture, promoting their appropriation". This great festival will take place from November 11 to 15 of this year 2020.
Who can participate?
Professionals from the areas of the natural sciences can participate, social, Exact, humanities and the arts, either have undergraduate or postgraduate academic degrees or are in the process of obtaining.
How to participate?
To participate they must complete the registration form which requests data from the participant, description and features of the contested image, in addition, a declaration of authorship of the photograph will be requested.
The photograph and the documents must be completed according to the instructions described in these competitive bases and sent to the mail paulamerino@accdis.cl, within the stipulated deadlines.
Image format
Photographs must be exclusively authored by the participant
Images should be taken with a microscope of any characteristic.
The photograph must be sent in digital format.
The minimum resolution of 96 dpi and weigh between 3 Mb and 10 Mb
Files must be in jpeg format, Png, psd or tiff.
Each participant can submit a maximum of 2 images.
Deadlines
Call: The deadline for this call is from September 8, 2020 (date of publication of the bases) until October 15, 2020. ·
Results: The results of the selection and the winners will be announced on October 22, through the website www.explora.cl/rmnorte and email.
Open registrations here!