Convocatory Postdoctoral position in MAUCO cohort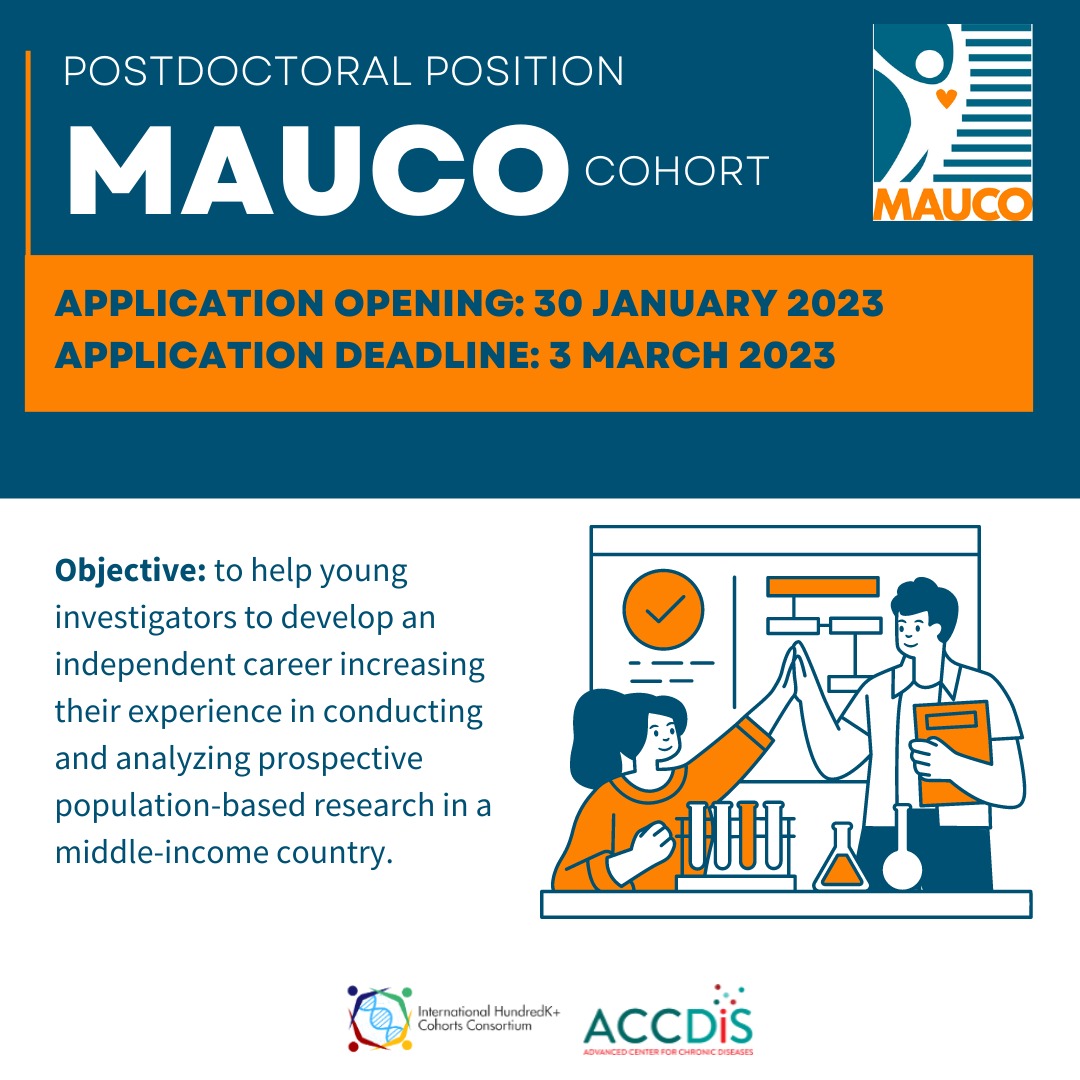 Postdoc to be part of the MAUCO research team for 1 or 2 years, when she/he will visit the community and participate in all relevant activities in the research line she/he selected including the Advanced Center for Chronic Diseases (ACCDiS) academic and extension activities. She/he will be working with a MAUCO PI in collaboration with an ACCDiS PI from another discipline, to be defined according to the research project defined by the Postdoc and the MAUCO PI.
Funding: ACCDiS-MAUCO Competitive Funds for postdoctoral training includes a gross monthly salary of US$ 1,655 to cover living expenses and health insurance; additionally, we cover attendance to conferences to present their findings and cover some research-related expenses.
Training opportunities: attend courses, seminars, and workshops in ACCDiS or the associated universities (UC, UChile, UCM, U. Talca, UFRO).
Profile of the candidate: Must have a Ph.D., expertise in statistics, and scientific writing skills. Basic Spanish will be helpful.
Expected results: One manuscript and research proposal during her/his fellowship.
Research lines:
Mental Health.

Social and biomedical determinants of cognitive aging, cognitive disorders in the context of chronic diseases. Cognitive disorders after COVID-19. Health effects of early adverse events. Depression. CLINICAL ROTATIONS. PI: Pablo Toro MD, Dr. med (U. Heidelberg). Psychiatrist, a specialist in geriatric psychiatry, cognitive disorders, and aging. Associate Professor, Director of Mental Health Department at UC.

Environmental Health.

Pesticides, air pollution, metabolomic chronic diseases. Climate change and Health. Geographic analyses, Environmental and Occupational Epidemiology. PI: Sandra Cortés, VD, MSc in Biological Science, Ph.D. in Public Health (Universidad de Chile). Responsible for Environmental and Occupational Exposures in MAUCO. Associate Professor at PUC, Santiago, Chile.

Cardiovascular Health.

Metabolic health, healthy obesity, NAFLD, lifestyle, and health. PI: Laura A Huidobro. MD, MSc in Nutrition and Metabolic Diseases, Ph.D. in Public Health and Epidemiology (LSHTM, London). Regional Coordinator of MAUCO. Professor at UCM, Maule, Chile. UCM offers lodging and additional stipends.
Cancer causes and prevention.

Arsenic-related cancers (Northern Chile); high biliary tract cancers (Southern Chile); lifestyle Intervention trial in nutrition and exercise for cancer prevention, MAUCO cohort (Central Chile). Teaching opportunities in Epi Master and Ph.D. programs. PI: Catterina Ferreccio. MD, MPH, MSc Epi, Professor of Public Health. MAUCO Director; ACCDiS Deputy Director. Director of Ph.D. Epidemiology Program at UC.
Your application: Please send a motivation letter with a statement of research interest, a detailed CV and two recommendation letters to Macarena Garrido (magarridot@uc.cl) and Claudia Marco (cmarco@uc.cl).
| | |
| --- | --- |
| 1. Application opening: 30 January 2023 | 4. Results: 24 March 2023 |
| 2. Application deadline: 3 March 2023 | 5. Program start date: 2 May 2023 |
| 3. Pre-selection interview: 13 to 17 March 2023 | |