We are looking for you! We need scientists in action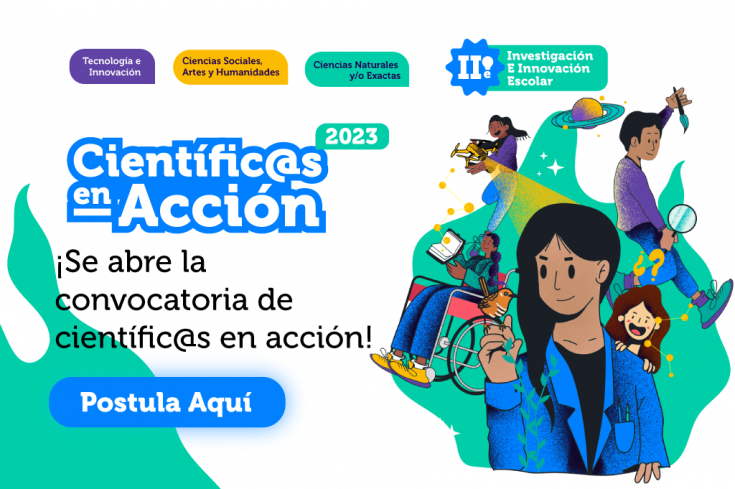 We invite you to be part of an initiative in which you will be a guide and support for teams of teachers and students from 1st to 4th grade (Mini Explorers) and 5th to 4th grade (School Science Clubs), belonging to educational establishments of the 20 municipalities that make up the PAR Explora RM Norte: Cerro Navia, Colina, Conchalí, Curacaví, Huechuraba, Independencia, Lampa, Las Condes, Lo Barnechea, Lo Prado, María Pinto, Padre Hurtado, Providencia, Pudahuel, Quilicura, Quinta Normal, Recoleta, Renca, Tiltil and Vitacura.
The general objectives of this initiative are:
Encourage the development of research and innovation skills in the educational community, emphasizing questions and needs that arise from their environment and daily life in a collaborative manner.
Promote the social appropriation of research and innovation as a cultural practice in the educational community.
What is the role of the scientific advisors?
To accompany the process of developing a school scientific research, being in direct contact with the teacher in charge and his/her students. At the same time, the advisor must contribute with his/her knowledge and experience so that the teams achieve, in this year 2023, to carry out a research or innovation project.
Additionally, each advisor commits to give a talk to students of the school with the topic of their choice.
In Clubs, students enter topics within the following categories:
Research: research must be developed from a question defined by the students, which they will seek to answer through the construction of an appropriate research/innovation methodology. The different areas in which they can develop their research are the following:
Natural and/or exact sciences: corresponds to research that addresses phenomena of biological, physical, chemical, earth, medical, health, agricultural sciences, among others.
Social Sciences: corresponds to research that addresses phenomena of sociology, history, geography, economics, psychology, among others.
Arts and Humanities: corresponds to research that addresses phenomena or problems related to the study of the human condition.
Innovation: innovation projects must be developed based on a problem or need that the students detect in their communities and that, based on technological and/or innovative solutions, they seek to solve. The different areas in which they can develop their innovations are the following:
Scientific/Technological: when the changes and/or solutions introduced are of a technical or scientific nature.
Social: when the generation of value for society is through the introduction of a new product, service or process that satisfies a social need in a better way than existing solutions, producing a favorable change in the social system.
In Mini Exploradores@s, unlike Clubs, due to the age of the students, guided activities are worked on, which for this year will be in Social Sciences: Heritage and Multiculturalism.
The scientific advisor must be a professional who is currently pursuing graduate studies in one of these areas or who is a specialist in one of them. He/she should be a motivated person, who wants to contribute voluntarily and from his/her knowledge to the children who are beginning this fundamental stage of their education.
We will contact you when the Clubs register in July, depending on the number of Clubs and Mini Clubs and their research topics.