The call to participate in the Mini Clubs 2022 is now open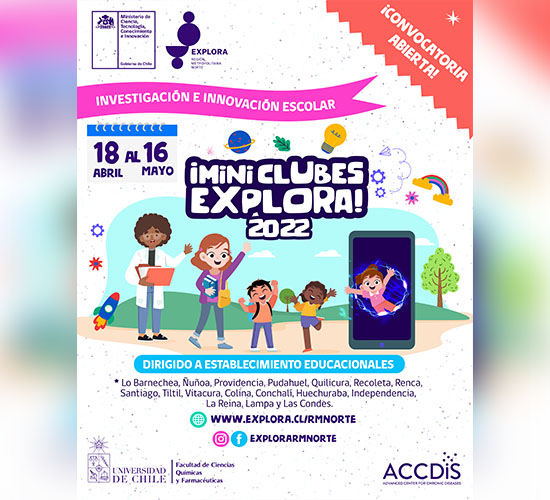 Our PAR Explora RM Norte invites you to participate in the Mini Clubs 2022. This is an initiative of Explora that seeks to support teachers and students through trainings, accompaniment and assignment of scientific advisors that allow them, through an inquiry cycle, develop some scientific skills necessary to reach the beginning of a school innovation project: consider for themselves a solution proposed and that can be developed later. The content that will be worked on is "Environment" from the area of Natural Sciences, aligned with the contents of the curriculum of the first basic cycle.
What is the Mini Clubs 2022 initiative looking for??
Train teachers in topics of inquiry, scientific competences, environmental and sustainability issues.
Co-design together with the teachers scientific research experiences suitable for the different courses of the first basic cycle.
Promote the development of scientific and transversal competences in students.
Promote students to detect environmental problems in their communities and to make innovative solution proposals.
For more information and registration visit www.explora.cl/rmnorte/