We're all "Equally Wise"
January 6, 2021

Posted by:

ACCDIS

Category:

News

,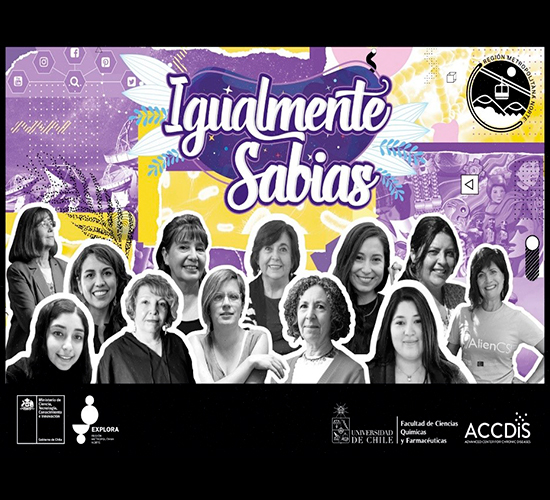 During the first month of 2021, Explore RM North launches virtual and face-to-face exposure, dedicated to the recognition of twelve great Chilean scientists. The initiative seeks to inspire and promote girls' interest, young people and women in the various areas of science, Technologies, knowledge and innovation.
"Nice stay" is the name of the virtual exhibition that starts today and can be viewed for free and throughout the community, via the link below "Equally Wise Exhibition" HTTPS://peopleartfactory.com/g/QuadMRxvRa0eU5xZRJOz or by PAR Explore RM North HTTPS:www.explora.cl/rmnorte/. This activity is organized by the Regional Associative Project Northern Metropolitan Region of Explora, Ministry of Science, Technology, Knowledge and innovation, led by the University of Chile through the Faculty of Cs. Chemistry and Pharmaceuticals and its unit executing the Advanced Center for Chronic Diseases (ACCDiS ).
Within the framework of the new gender equality policy in science, recently enacted by the Ministry of Science, Technology, Knowledge and innovation, Explora RM Norte contributes its grain of sand and reports that "Through the visualization of the great work and contribution of twelve Chilean women scientists, specializing in astronomy, life sciences, ethnic and gender equity, Ecology, Paleontology, technology, geology and innovation; we seek to inspire and promote the interest of girls, young people and women in the study and development of the sciences, Technologies, knowledge and innovation. Also, we hope to contribute positively to the breakdown of gender stereotypes associated with various areas of human knowledge, how ingrained they are in our society", said the director of Explora RM Norte and researcher ACCDIS, Dr. Mario Chiong.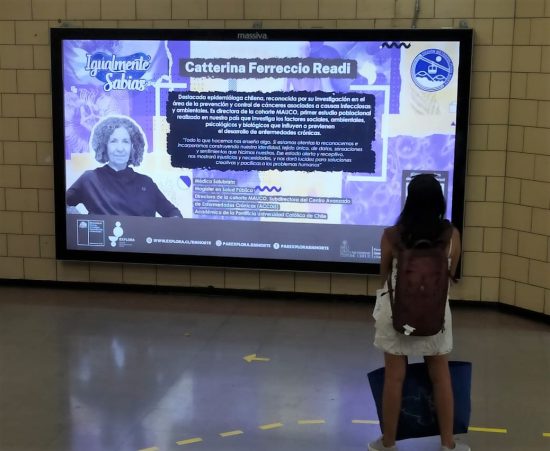 In this same line, undersecretary of the Ministry of Science, Technology, Knowledge and innovation, Carolina Torrealba commented: "I want to highlight the PAR Explora RM North exhibition, Equally Wise, which recognizes the role that Chilean scientists play in our society, and thereby empower new female references in traditionally masculinized areas, as science and technology are; areas that determine our present and future. We must urgently and determinedly advance the incorporation of more women into science and technology as this directly impacts our country's ability to address diverse and complex challenges".
The activity will also have a physical exhibition located in the Santiago Metro, on the University of Chile lines, Catholic University, Cal Canto, Ñuble, Hospitals, National Stadium, Pudahuel, Plaza de Arma and Cardenal Caro where people will be able to observe and read the most important works of these scientists. Each poster will have a QR code located at the bottom, that will allow you to visit the virtual exhibition and share the material with your close ones easily and quickly.
Among the twelve Chilean scientists participating in the exhibition "Equally Wise" are: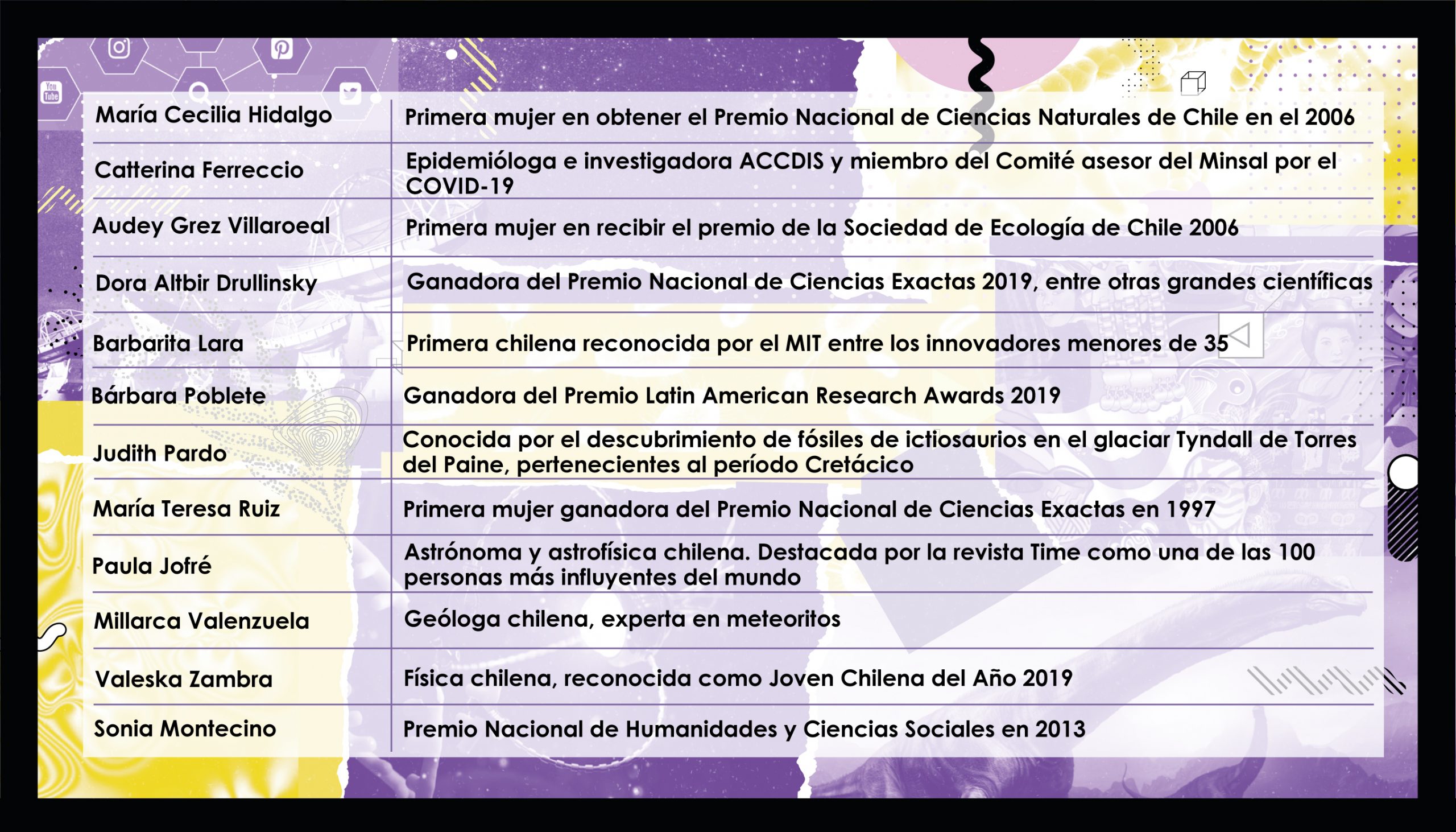 Scientists are also human
On the other hand, during the first month of the year, will also premiere on the social networks of Explora RM Norte (Instagram, Facebook, YouTube and Twitter) entertaining capsules, where scientists answer 15 short questions that go beyond their professional achievements and tell more about their lives.
And to finish, as part of the celebration of International Women's and Girls' Day in Science, Thursday, February 11, will be published on the website (www.explora.cl/rmnorte/) a magazine with exclusive interviews by Chilean scientists and the research papers will stand out, in poster format, more than 40 young people from various universities such as: University of Chile, University of la Frontera, Pontificia Universidad Católica de Chile, University of Santiago, Chile, Central University of Santiago, University of Talca, Universidad Catolica del Maule, Institute of Astrophysics, Universidad Andrés Bello, Bernardo O'Higgins University, INTA, Facultad de Ciencias Químicas y Farmacéuticas, Pontifical Catholic University of Valparaiso and Autonomous University of Barcelona.