ACCDiS seminars: This week on atrial fibrillation with the renowned Dr. Ramón Corbalán
August 2, 2018

Posted by:

ACCDIS

Category:

News

,

With presence students and teachers from different areas of health, Dr. Ramón Corbalán, recognized doctor of the Division Cardiovascular of the school of Medicine of the Pontifical University Catholic of Chile and researcher of ACCDiS delivered data and relevant information on the progress and challenges in atrial fibrillation, in the seminar: "PROGRESS AND CHALLENGES IN ATRIAL FIBRILLATION"
Atrial fibrillation is the most common sustained arrhythmia and fundamentally affects the population over 65 years, studies indicate that drugs with anti-coagulation properties have helped reduce this condition and other serious consequences such as infarctions and cerebral embolisms.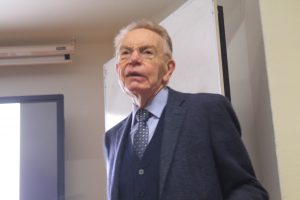 Dr. Corbalán also unveiled next to ACCDiS research about factors predisposing to the development of atrial fibrillation, a collaborative study that was made by the Director of the Centre Dr. Sergio Lavandero. On this day to the Dr. Corbalán delivered data and announced investigations in course: 'detect early and identify finer risk factors with technology that we can use,' he said. Promote spaces of knowledge exchange with important references of the study of chronic diseases is one of the goals of ACCDiS, These initiatives is intended to bring to the students with the experience professionals and researchers on various topics.
"The objective is promote anxiety in students and motivate those who are in training," said Dr. Corbalán referring about the importance of generating these meetings.