Online seminar: spreaders at ACCDIS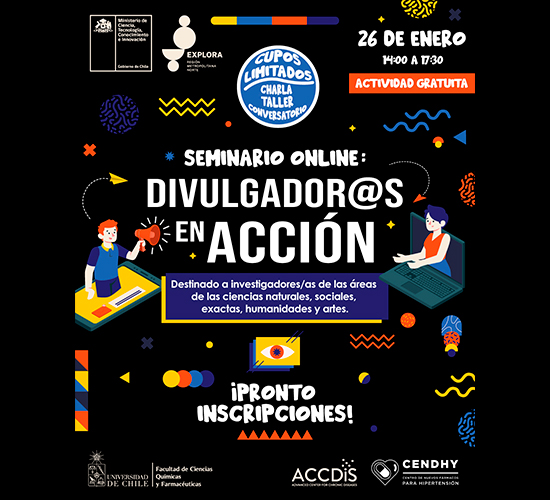 On Tuesday, January 26, the scientific outreach meeting will take place, which aims to promote the active role that researchers should have as socializing agents of knowledge in their community, and present them with various formats in which scientific dissemination can currently be made.
Divulgador@s In Actions will feature prominent representatives from the world of science, technology, knowledge and innovation, among them Dr.. Nelida Pohl, director of communications at the Institute of Ecology and Biodiversity and President Chilean Association of Journalists and Professionals for the Communication of Science (ACHIPEC). In addition, the conversation called "Multiple Ways to Disseminate Science" will be held, and the "Scientific Disclosure" workshop by José Ilia García, master of science with mention in physics and President Foundation 42.
The invitation is addressed to researchers in the areas of natural sciences, social, Exact, humanities and the arts.
LIMITED CUPOS!