Call for científic@s in action opens!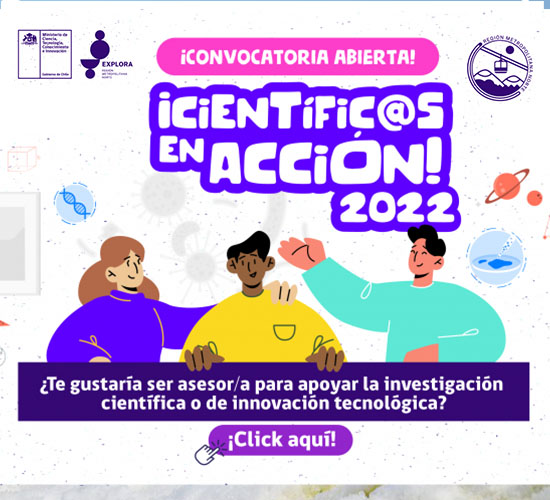 Our Explora RM Norte invites you to be part of the guide and support to teachers and students who are between the courses of 1st to 4th grade (Mini Clubs) and 5th to IV Medium (School Science Clubs), belonging to educational establishments of the 17 communes that make up the PAR Explora RM Norte: Lo Barnechea, Ñuñoa, Providence, Pudahuel, Quilicura, Recoleta, Renca, Santiago, Tiltil, Vitacura, Hill, Conchalí, Huechuraba, Independencia, The Queen, Lampa and Las Condes.
The objectives of this initiative are to:
Encouraging the development of skills for research and innovation in the educational community, emphasizing questions and needs arising from your environment and everyday life collaboratively.
Promoting social appropriation of research and innovation as a cultural practice in the educational community.
The scientific advisor must be a professional who is currently pursuing postgraduate studies or who is a specialist in that area. He must be a motivated person., who wants to contribute voluntarily and from their knowledge to the children who are starting in this stage of fundamental formation.
What is the role of scientific advisors??
Accompany in the process of the development of a school scientific research, being in direct contact with the teacher in charge and their students. Contribute with their knowledge and experience to achieve, in this year 2021, achieve a research or innovation project (Clubs) or develop a scientific research question (Mini Clubs).