New ruling against Monsanto reopens debate on Chile on herbicide glyphosate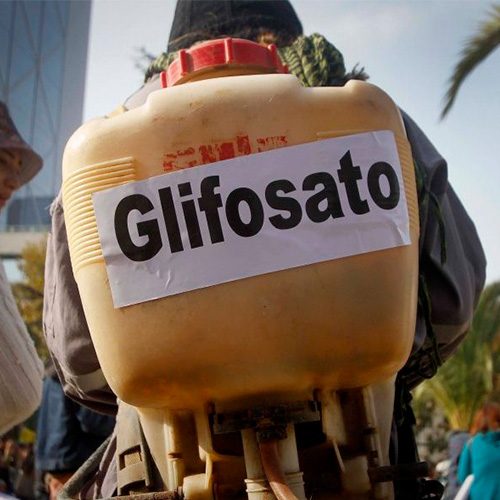 This chemical, It is marketed under different names in Chile, from 2015, he is considered a possible carcinogen.
For the third time since that acquired Monsanto, Bayer must pay damages for the effects on the health of the herbicide Roundup. Glyphosate containing this pesticide was responsible for an elderly couple became ill from cancer nearly a decade ago.
Those affected, Alva and Alberta Pilliod, they will receive a compensation of two billion dollars for the German pharmaceutical, as an Oakland jury ruled, California.
"We would have liked that Monsanto had noticed on the label of the brand that can cause cancer. We had not used it, We had a second option. The ads said that it was extremely safe, and that we think", said the woman, diagnosed with non-Hodgkin Lymphoma.
While in United States this herbicide, it accumulates more than 13 thousand claims, in Chile, the situation is very different. On national soil more than thirty products containing this chemical are marketed, but there is no official record of chronic diseases associated with use.
However, environmental groups demand greater regulation from that in 2015 the World Health Organization (WHO) It included glyphosate in a list of possible carcinogenic. Patented in 1974 by Monsanto, Since 2000 the substance is sold by various manufacturers. That is why you may find with different names on the market.
"Now being clear what we have said for so long, glyphosate and Monsanto products threaten health. But it is not just Monsanto, is the entire industry. In Chile there are problems in the agricultural area, they are demonstrating problems of health in children with allergic and cognitive problems, In addition to cancers", says Rodrigo Marín, Member of the ecological group in action.
"It is positive that the opinion of Justice of United States, the country which authorized the glyphosate. We believe that this marks the way to enact that glyphosate is not used. In Chile, we have requested the SAG to take measures to prevent damage with glyphosate will continue, its use is widespread. But the SAG is not sensitive to these news: in March said us that there are no studies that endorse its suspension", Adds Lucía Sepúlveda, Pesticide Action Network.
From the aforementioned entity responded that glyphosate is a minimal risk to health if it is accompanied by appropriate protection elements, same line in which some international organizations such as the European food safety authority have spoken (EFSA) and the United States Environmental Protection Agency (EPA for its acronym in English).
"The EPA has not identified any public health risk relative to the current use of glyphosate", said the administrator of the EPA, Andrew Wheeler, a few weeks ago.
A cocktail of herbicides
Originated in 2015, Project MAUCO has been a pioneering initiative in the country in the search for the causes associated with cancer and other chronic diseases. To date the study covered ten thousand inhabitants of the town of Molina, in the Maule Region.
"We have done a complete characterization of the State of health of persons, especially of chronic diseases. To the same extent, We've collected biological samples: blood, serum and plasma. It has also collected environmental information of the area", explains Sandra Cortes, Public health UC academic.
In this context, says environmental epidemiologist, herbicides are a relevant factor in the analysis. "A group of high interest are agricultural workers, who could be exposed to a number of chemical substances used in farming such as pesticides and fertilizers. There are a number of diseases that could be considered in that group, arriving approximately three thousand people", says the specialist.
"The study of these chemicals is not easy, in Chile there are no analytical capacity to measure these contaminants in environmental matrices or persons. We have been able to characterize the presence of agricultural work and the size at which this takes place. But we don't have specifics of a pesticide in particular, make the measurements in air or soil is very cotoso. The data that is in the process of being published has to do with pesticides that may be more persistent. And one of the peculiarities that glyphosate has is that it is very unpersistent, we should have specific seasons to measure it", Cortés comments.
Despite the limitations, the project has made it possible to assess damage. And the result is blunt: "In the particular case of glyphosate what happens is that the available evidence is obtained from studies with a high number of participants, more than 15 thousand. At MAUCO we are doing recent analyses and we are also seeing cognitive decline in people who have more contact with pesticides. We are also seeing a greater occurrence of diseases such as diabetes and it has been found to be very low use of personal protective elements in these workers".