More than fifty students from the Metropolitan Region will present their scientific projects at the XVI Regional School Congress
July 23, 2020

Posted by:

ACCDIS

Category:

News

,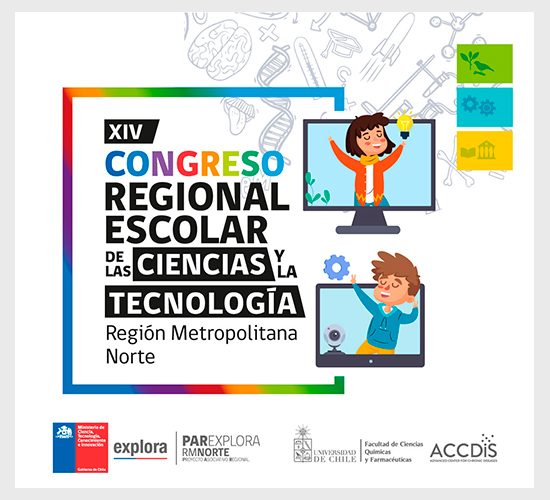 Despite the social distance and quarantine, Explore RM North has its clear goal: bringing together the scientific world and the school world, through the dissemination of knowledge and the development of scientific activities. In this line, the XIV Regional School Congress of Science and Technology will be held virtually for the first time on July 30.
From Thursday, July 30 to August 10, the XIV Regional School Congress of Science and Technology will be held virtually, organized by the Exploratory Regional Partnership Project, Northern Metropolitan Region of the Ministry of Science, Technology, Knowledge and innovation, led by the University of Chile through the Faculty of Cs. Chemistry and Pharmaceuticals and executed by the Advanced Center for Chronic Diseases (ACCDiS ).
This initiative will bring together more than 50 students between the 5th Basic year and 4th year From different educational institutions, who through an explanatory video accompanied by a poster will present the results of their school research projects, carried out during 2019. To find out the details of these projects go to www.explora-cl/rmnorte/.
During the Congress, research will be presented in different areas of the social sciences, Nature, engineering and technology and will also feature the special participation of Valeska Zambra, winner of the 2019 Chilean Young Prize and Dr.. Gabriel León, Biochemistry and PhD in Cell and Molecular Biology, who will participate in the inaugural talks and the close of the event.
The XIV Regional School Congress of Science and Technology will begin on Thursday, July 30 from 10 a.m.:00 am until 11am:00 hours, time when the teams of each school will be presented and students will already be able to start answering the questions asked by the Evaluation Committee, which is made up of more than 50 university institutions in the country.
The activity will be closed on Monday, August 11 at the same time as the opening, day when the top 5 scientific projects will be selected and other surprise awards will be announced.