School science doesn't stop: School Science Club 2020
July 23, 2020

Posted by:

ACCDIS

Category:

News

,
More than 100 students from the Metropolitan Region, participan en 33 proyectos de los Club Científicos Escolares 2020 del PAR Explora RM Norte.
El pasado 22 de junio, más de 30 profesores participaron en la primera reunión online del programa piloto de apoyo a docentes, known as "School Science Club 2020", organized by par Explora RM Norte, Ministry of Science, Technology, Knowledge and innovation, led by the University of Chile through the Faculty of Chemical and Pharmaceutical Sciences and executed by the Advanced Center for Chronic Diseases (ACCDiS ).
Dicha iniciativa reúne a 33 proyectos de investigación científica escolar, focused on various areas of science, innovation, arts and humanities. Which has a common goal, seek a solution to some problems in your community and develop it with the support of your teacher and scientific tutor, quienes los guiarán en esta nueva aventura online 2020.
The scientific school clubs are made up of basic and middle education students from: Desirée College, San Nicolás Deacono College, Homeschooling Overcomer, San Francisco Javier De Huechuraba College, Santiago Evangelista College, Simón Bolívar School of The Counts, German College of Santiago, El Salvador University College, Akros College, Liceo Carmela Silva Donso, Colegio Madre Ana Eugenia, Liceo Monsignor Enrique Alvear, Weston Academy College, Father Pedro Arrupe College, Escuela Manquecura Valle Lo Campino, Australian College, Colegio Palmarés Oriente, Writers Educational Center of Chile, Manuel Bulnes Prieto Basic School, Santiago City School E-70, Santa Maia School in Santiago, Liceo 1 Javiera Carrera e Instituto Nacional General José Miguel Carrera.
Despite the adversities and external factors that currently naughty most of the students in the country, this group of researchers are engineered to communicate and carry out their scientific project. "It's been a new modality from which we've all had to learn, However, gradually we are adapting and realizing certain benefits that this brings us. For example, when conducting research it is easier to do surveys and collect information to start and develop them," commented Leonardo Vera, member of the School Science Club of the Colegio Simón Bolívar de Las Condes.
Leonardo, with her partner Martina Covacevich and Teacher Katinna Onetto, working on developing a website, where they will answer questions related to the sciences. The goal is to teach the community through inquiry, making information capsules on demand, hence the peculiar name of his project "Delivery Sciences".
Another of the jobs that seeks to provide a solution to one of the problems that aquechees us as a society, has to do with recycling, "Get off the back." is one of the school projects led by the Writers Education Center of Chile in Recoleta, which aims to create organic compost in homes and teach the community the different ways to recycle waste accumulated in homes, COVID-19 pandemic product.
"Even though our school has a high degree of vulnerability, we want to involve children in our community and show them that by working hard and constantly we can get great results. The aim is to implement this project at the school and add more and more members", commented on science teacher Catherine Canales, who with Professor Cynthia Silva accompany her students on this online adventure.
Radio as a tool to study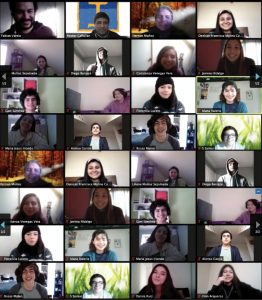 "The use of this means of communication for teaching, is a pedagogical quest to transmit content and achieve learning in students who do not have access to the internet or who live in faraway places" explained Hernán Muñoz, professor at the School Science Club of the Colegio San Nicolás Deácono, who through educational capsules, which will then be broadcast on the community radio of Puente Alto, propose to teach through the radio.
Gabriela Matte also a professor of researchers, points out that this is an excellent opportunity to bring science and research closer to children "it's a good time for them to participate and lead in their own learning process, it's also an instance to change a little bit the dynamics we've had so far".
And while for many teachers and students it has been a complete challenge this new online modality, many of the members of the School Science Clubs confessed their enthusiasm and desire to mark the deference, "My motivation is to reach many children who may be in other regions and have no internet connection, so that they can continue to be educated with quality information without the need to leave their homes", idana Valeria of the Colegio San Nicolás Deacono.
On the other hand, Stefany Herrera member of the School Science Club of the City School of Santiago E-70 indicated "I like sciences a lot and even though I already knew that this workshop would be online and that I could not apply the experiments in the laboratory, I was interested in signing up because I know I'll learn something new". In this line her partner Daniela Blanco, she also took the opportunity to send a message to all students like her, "the pandemic is going to pass, that's why we have to continue learning and preparing for the future".
The School Science Clubs, trabajarán durante 6 meses sus investigaciones y las presentarán en noviembre de este año.