ACCDiS researcher participated in conference of the Pan American Health Organization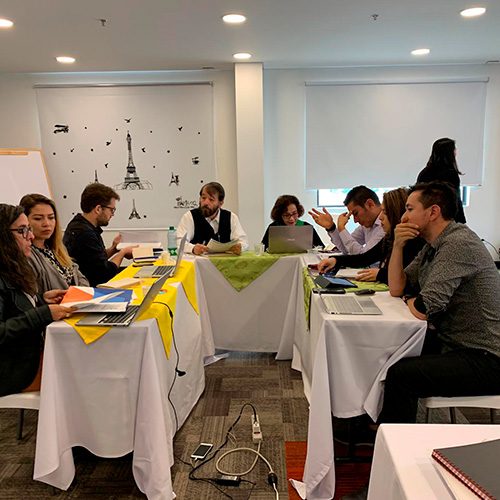 Sandra Cortés, researcher at the Centre for advanced chronic diseases (ACCDiS ), participated in the Workshop "Environmental Public Health Surveillance in the Americas: air pollution", event carried out by the Pan American Health Organization (Paho) in Bogota, Colombia, 9 days, September 10 and 11.
On the occasion, the scientist was not only part of the discussion tables generated around the issue of air pollution, participating as a moderator in presenting experiences in organizing public health surveillance systems in air quality in various countries and making recommendations regarding sources and information flows for the sustainability of environmental health information and surveillance systems.
As NOTed by PAHO, "some countries in the region have a public environmental health surveillance system in air quality, or report a number of indicators related to the subject. The problem is that this system is implemented differently in each country and often within the same country. There is no regional guiding document on the subject, making it difficult to harmonize procedures and information and expand surveillance systems for other countries", so it becomes necessary to form guidelines that give strength to future actions that protect the environment and protect health from air pollution.
In this respect, ACCDiS researcher accdiS noted that "for the Pan American Health Organization/World Health Organization, air pollution is a global emergency issue and indeed for Latin American and Caribbean countries (Lac), in order to respond to Sustainable Development Goal No. 3.9.1 which states 'to educate the mortality rate attributable to air pollution' by 2030. At LAC, 2016, 91% of the population lived in places where WHO recommendations on air quality were not respected".
Sandra Cortes, who is also the president Chilean Society of Epidemiology, comments that "our country is also. In Chile, nearly 10 million people now live in places with high levels of particles and gases, associated with an increased risk of dying from cardiovascular causes, respiratory and cancer. To do this, public health actions, such as developing and strengthening environmental health surveillance systems with a focus on air pollution, are key actions to reduce exposure and reduce mortality attributable to. In addition, these systems will allow to better address the changes associated with climate variations".
"This initiative is very welcome in all the countries of Latin America and the Caribbean and indeed also for Chile", finished the research associate ACCDiS.
Check out below some of the images left by the event: