ICovid Report: The risk of regrowthe is maintained in all regions of Chile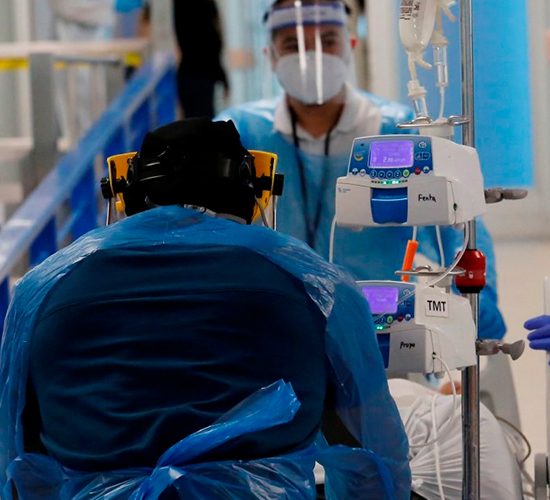 Report warns that the northern and southern ends of the country continue with a high level of contagion.
The areas with the highest burden of new daily cases per 100.000 inhabitants are Magellan (38,0); The Lakes (33,5); Arica and Parinacota (22,6) and Aysén (13,7).
El equipo ICovid Chile, initiative led by the University of Chile, the Pontifical Catholic University of Chile and the University of Concepción, presentó este viernes su informe número 15, documento que advierte que los extremos norte y sur del país continúan con alto nivel de contagio.
According to the latest report, con información obtenida hasta el 14 de noviembre, a nivel nacional se observa un aumento en la carga de infección del coronavirus, mientras que el indicador de transmisión sigue sobre 1: i.e., la tasa de contagios continúa siendo creciente en el país.
El indicador de testeo, at the same time, se mantiene en números adecuados y la positividad ha disminuido a nivel nacional. However, los indicadores de trazabilidad, both early consultation and early delivery of results, aún no logran llegar a un nivel seguro en el país y más de la mitad de los casos tienen un rezago mayor a tres días entre el inicio de síntomas y la confirmación.
Mauricio Lima, researcher in population dynamics and academic at the UC Faculty of Biological Sciences, explained that "el panorama general de la epidemia en Chile esta semana es de valores que han ido mejorando en la zona central del país, pero hay preocupación por la carga de infectados en algunas regiones del centro-sur y un indicio de incremento de la transmisión en las regiones de Atacama y Coquimbo".
1) DIMENSION ANALYSIS: Contagion
En cuanto a la Dinámica de Contagios, en este nuevo informe se observa que todas las regiones del país superan el umbral de un contagio diario por cada 100.000 inhabitants, which is the standard defined as safe, so there is a risk of regrowthe.
Las regiones con mayor cantidad de infectados son Magallanes (59,5 por cada 100.000 inhabitants), The Lakes (44,3 por cada 100.000 inhabitants), Los Ríos (37,6 por cada 100.000 inhabitants) and The Araucanía (26,0 por cada 100.000 inhabitants).
Between the previous report and the current report, se observa un aumento significativo en la tasa media nacional de nuevos casos diarios (+8,6 por ciento), con regiones que muestran números aún más preocupantes como Ñuble (+35 por ciento), The Lakes (+32,3 por ciento) and Biobío (+18,9 por ciento).
2) Transmission
La tasa de transmisión (R cash) actualmente es superior a 1 (1,07), i.e., la de una "epidemia en crecimiento leve" at the national level.
Las regiones con mayores tasas de transmisión son Ñuble (1,32), Aysén (1,24), Atacama (1,24) and Coquimbo (1,23), so it's possible to talk about two geographic focuses with higher transmission values: one located between the regions of Uble and Los Lagos and the other between the regions of Atacama and Coquimbo.
Las y los expertos plantean su preocupación en torno a estos territorios ya que "se acercan las vacaciones de verano y con ellas la explosión de viajes interregionales".
Catterina Ferreccio, epidemiologist and academic from uc's Department of Public Health, He points out that, con la tasa de reproducción de la epidemia sobre 1, "se mantendrá un número de casos nuevos mayor a lo deseable en las próximas semanas. Lo más preocupante hoy es la persistencia de tasas elevadas en el extremo norte, and mainly in the southern regions of the country, en zonas de alto flujo de turistas nacionales y extranjeros en el verano".
3) Testing
En la dimensión de testeo se observa que "la cantidad de test PCR realizados por 1.000 habitantes por semana en el país se mantiene alta", con una positividad estable a nivel nacional con 4,4 por ciento (Yellow).
However, in some regions the positivity indicator remains at values above the national average, preocupan particularmente las cifras de Magallanes (11,3 por ciento), Los Ríos (10,3 por ciento) and The Araucanía (9,2 por ciento), where "dada la alta carga de personas infectadas en esas regiones, it is essential to rapidly increase the ability to test, aumentando a 50 o más test por cada 100.000 inhabitants", ICovid Chile researchers recommend.
Marcelo Olivares, ingeniero y académico de la Universidad de Chile, highlights the gradual improvement that has been observed in terms of testing capacity at the national level.
"Este es un indicador muy relevante para tener una medición adecuada de la carga infecciosa y así llevar un control adecuado de la pandemia. However, vemos que la situación de la región de Los Ríos y Los Lagos es sumamente preocupante: have a very high number of new cases, un alto índice de transmisión R y una positividad alta de los tests PCR. Una capacidad insuficiente de testeo nos hace perder visibilidad de la pandemia, lo que dificulta tomar medidas para contenerla", pointed out the expert.
4) Traceability
La dimensión de trazabilidad se mantiene con indicadores de color naranjo a nivel nacional y muestra variabilidad a nivel regional, similar to those seen in the previous report.
Las regiones de Atacama, Coquimbo, the Araucanía, Lakes and Magellan show one or two of the traceability indicators in the red zone.
Early confirmation, measuring the percentage of confirmed cases within three days of the onset of symptoms, ha ido mejorando de forma paulatina desde fines de septiembre y actualmente 55 por ciento de los casos fue notificado como sospechoso dentro de un plazo de dos días desde el inicio de síntomas.
In turn, there is a gradual improvement in test processing and, at the close of this report, 60 por ciento de los exámenes PCR se informaba en un plazo de un día desde que el caso fue notificado.
At the territorial level, se observan algunas regiones con índices bajos de trazabilidad, y causa especial preocupación la situación en La Araucanía, donde solo 30 por ciento de los casos está siendo confirmado dentro de tres días desde el inicio de síntomas.
"La pronta detección y aislamiento de casos confirmados es fundamental para mantener los niveles de transmisión bajo control (…) Se debe seguir trabajando para que todos estos indicadores superen el 60 por ciento. To the extent that this is achieved, nos acercamos a estabilizar la transmisión en niveles controlables", is raised in the report.
FALSE FEELINGS OF FATIGUE
With these results, el doctor Juan Carlos Said, master's degree in Public Health, manifestó que preocupa "particularmente La Araucanía: el informe ICovid muestra que la positividad es mayor al 10%, y es la región que tiene más indicadores en rojo respecto al control de la pandemia".
"En el sur han fallado varias cosas, como la confirmación temprana", Aimed.
"Y hoy el enemigo principal -alertó- is pandemic fatigue, the feeling that the pandemic is over, that the vaccine is just around the corner, cuando la realidad no es esa".
Read full note www.cooperativa.cl