Explora RM Norte will celebrate science with free activities for all ages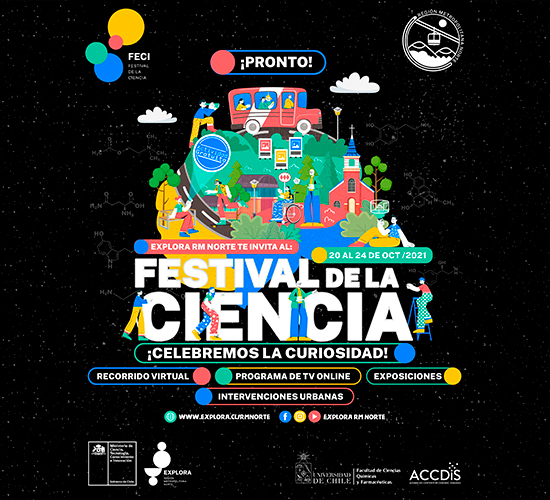 Invitation to discover beyond what we know
From 20 to 24 October, the Explora Northern Metropolitan Region Project of the Ministry of Science joins the national celebration "Science Festival" (FECI)". This year, activities will have a hybrid format, with online and face-to-face versions in the capital. FECI is a national celebration, public and free that invites all people to approach and enjoy the topics and phenomena related to Science, Technology, Knowledge and innovation.
For the third consecutive year, Explore RM North from the University of Chile, offers a fun and different panorama to all family members, "It is an honor and a great responsibility to be a part of this celebration., our goal is to continue generating, stimulating and maintaining the development of a scientific-technological culture in the community. This year we're excited to see each other again with our community, who I am sure will visit us in the urban intervention that we will have in various urban parks of the RM called "A journey through matter", which has augmented reality, visit the exhibitions that will be located in some Santiago Metro stations, they will also tour our virtual activities and participate in the great live television program called Science Festival "CyberEureka" Do not miss it and join us to celebrate curiosity!", commented the director of Explora RM Norte Dr. Mario Chiong.
During FECI, virtual and face-to-face activities will be developed, which can be enjoyed through its website Explora RM Norte, from October 20. Within the program of activities are:
CyberEureka Science Festival, second version of the digital TV program, which will take place live on Thursday, October 21 from 6:000:00 until 21:00", in this activity there will be talks, practical workshops and discussion of leading national specialists. The entire community can participate as a live audience and be part of entertaining contests that will be made in the broadcast. Those interested can register in www.explora.cl/rmnorte.
Virtual Tour Barrio la Chimba "Heritage", Science and Culture", in this tour the public will be able to know, discover and revalue the historical contribution, scientific and cultural of this area of the Metropolitan Region, all from their homes.
Expo FECI, this activity is composed of two exhibitions that will be available on the aforementioned website and will also be exhibited in person in different communes of our area. The first of these is "The SCIENCE of Health", exhibition that explains in a didactic way the main chronic diseases that affect people in Chile and the world. And the second exhibition, it's called "micro and macro world Explorador@s", where visitors will discover through 10 images the extraordinary world that exists around you and that until today is unknown to them.
The contents of both exhibitions arise from the collaborative work carried out with national and international researchers.
Intervention in your park "A journey through matter", through an application with augmented reality (RA), users will be able to immerse themselves and discover the various levels of organization of matter.
"This year our celebration will highlight the social sciences, Exact, technology, humanities and innovation. No doubt, it is a celebration that invites you to celebrate curiosity", said dr.. Chiong.
FECI creates memories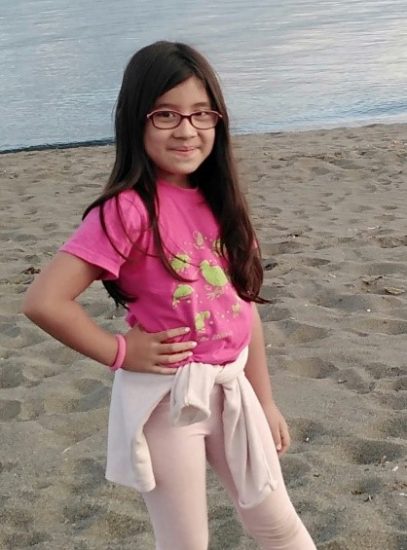 Belén Villa of 8 years, he virtually attended CyberEureka last year and said that the workshop he liked the most was Divertiquim, "I loved it because it had a lot of colors and they taught me experiments that I can do at home. I also liked that it was virtual, because I was able to share with my family and do the experiments with my brother" Belén took the opportunity to leave the entire community invited to participate in CyberEureka 2021 "Do not miss it, it's going to be super entertained and maybe we can learn new experiments.".
On the other hand, Claudio Martinez, 39, he said his two favorite activities from last year's Science Festival, was Dr's Astronomy talk. Mario Hamuy and the app "A journey through matter" "I found the talk a very modern and interesting format and I particularly liked the interactive exhibition that was held in the Inés de Suaréz park, where a 3D model of human skin was shown".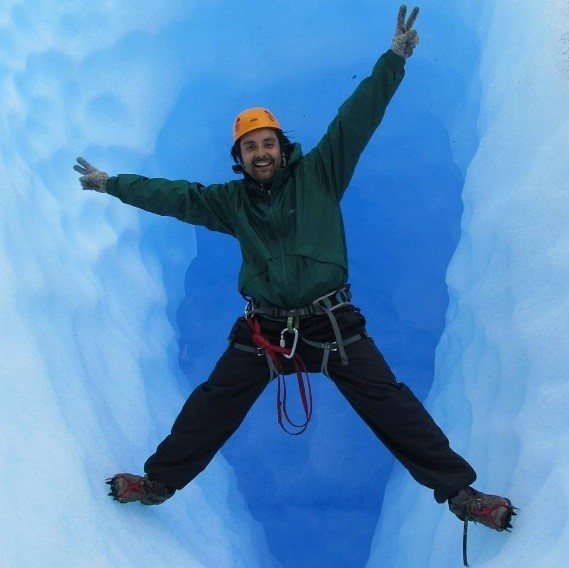 Finally, Claudio invited the whole family to celebrate curiosity at the Explora RM Norte Science Festival "They are transversal instances for the whole family in different formats that make it adaptable for each age.. In these times where we are responsible for the changes that are happening, we need more than ever scientific knowledge to improve our lives in every way and for that, these science promotion activities, technology and innovation are a perfect first step to access that wonderful world of knowledge".
Explore NORTH RM, is an associative project led by the University of Chile through the Faculty of Chemical and Pharmaceutical Sciences and its executing unit is the Advanced Center for Chronic Diseases (ACCDiS ).
Collaborative institutions
University of Chile: Department of Computer Science, Faculty of Architecture and Urbanism, Faculty of medicine, Museum of Anatomy, Faculty of dentistry, Facultad de Ciencias Químicas y Farmacéuticas, Clinical Hospital of the University of Chile, Institute of nutrition and food technology. Millennium Institute Fundamentals of Data, University of Santiago, Chile. Encuentros del Futuro Foundation. Bernardo O'Higgins University. Idea-Tec. Yaku. Pontificia Universidad Católica de Chile: Facultad de Ciencias Biológicas, Faculty of medicine, Institute of Geography. Independence Culture and Heritage Corporation. National Center for Conservation and Restoration. Medical Legal Institute Dr. Carlos Ybar. Paternitas Foundation. Metro de Santiago. Santiago Metropolitan Park. Mall Barrio Independencia. Center for New Drugs for Hypertension (CENDHY). University Of Texas Southwestern Medical Center. Advanced Center on Chronic Diseases (ACCDiS ). Universidad Mayor, Center for Applied Nanotechnology. Central University of Chile, Faculty of Health Sciences. Santo Tomás de Santiago University, Department of Basic Sciences. University of Antofagasta, Microbial Complexity and Functional Ecology Laboratory