Explore NORTH RM – ACCDiS starts calls for its 2021 activities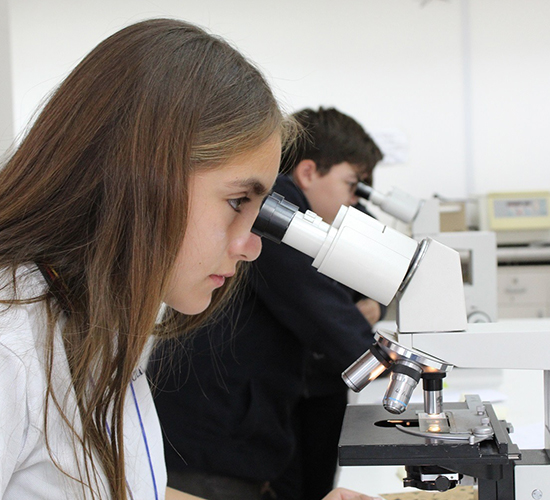 During the month of May, the following calls for the Explora Región Metropolitana Norte Project are open: Scientific school clubs, educational establishments that want to develop school research and researchers who want to be scientific advisors to clubs and PIPE First Age Indegation Program, aimed at kindergarten educators, kindergarten education technicians and differential education teachers, who perform at parvular education levels.
In its second year of execution, Explore RM North of the Ministry of Science, Technology, Knowledge and innovation, executed by the University of Chile through the Advanced Chronic Diseases Center (ACCDiS ) and the Faculty of Chemical and Pharmaceutical Sciences of the same study house, aims to continue promoting the development of a scientific-technological culture in the school community and stimulate effective communication between the scientific world and society.
In this line, the director of Explora RM Norte Dr. Mario Chiong said that while the current health crisis is true, it made it difficult to teach and learn the sciences, this situation also allowed our students to be motivated by scientific knowledge, allowing us to include within distance pedagogical strategies cooperative tools that allow students to be central actors in their own learning
These kinds of initiatives seek to support school research and innovation that enable teachers to develop fundamental scientific competencies for the development of integral individuals, understand and question the world around them.
Open calls: Scientific school clubs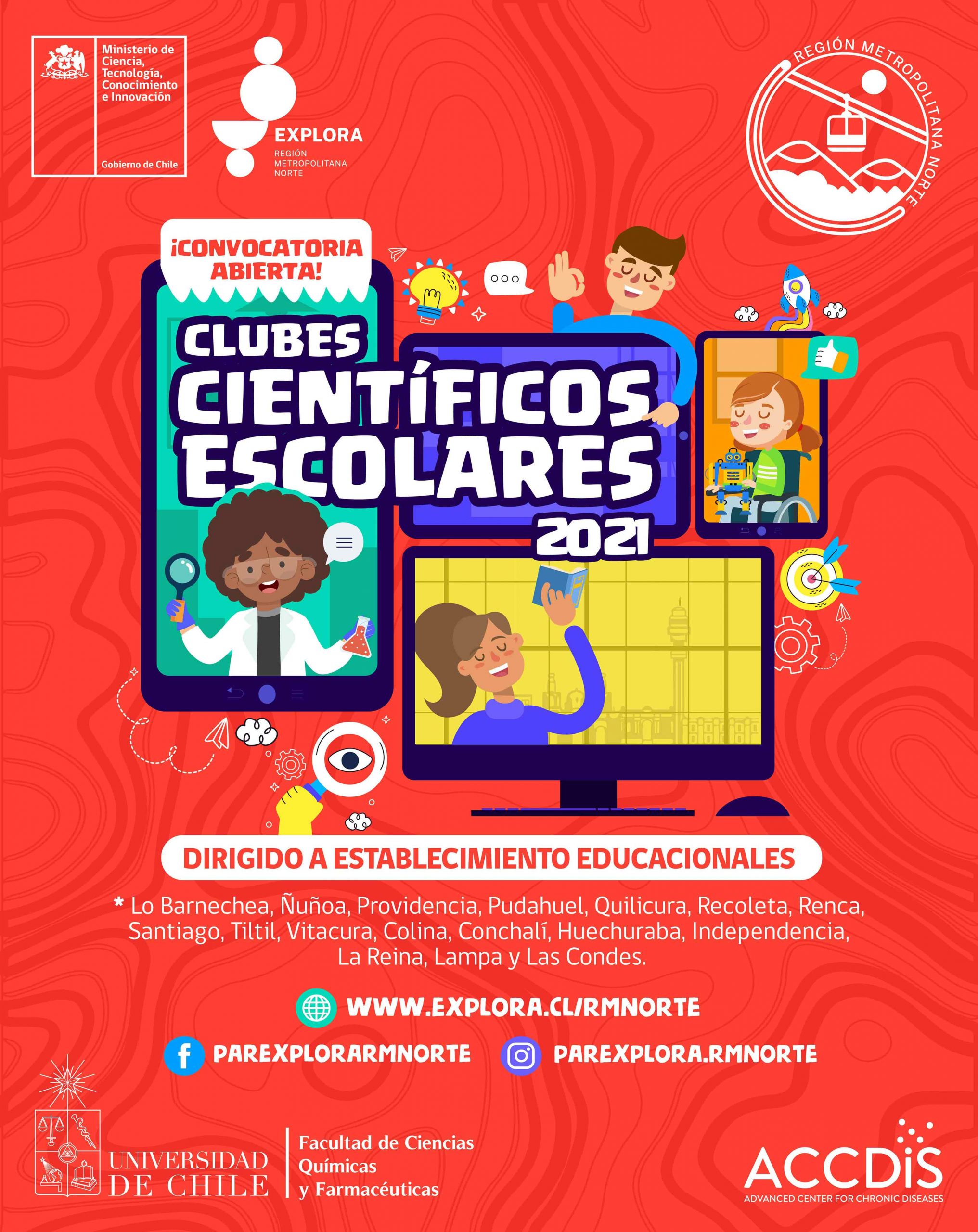 Under the "School Research and Innovation" initiative, the scientific clubs are aimed at teachers and students belonging to any of the educational establishments of the 17 communes of the project (see list below), who want or are doing research or technological scientific innovation in the area of natural sciences, social sciences, technology and innovation, arts and/or humanities. Each Club must have at least two students from 5th to 4th half, whose research questions will arise from their own interests.
All school clubs will have a scientific advisor who will accompany them throughout the activity. For this reason, the call to be part of the "Scientific Advisors 2021".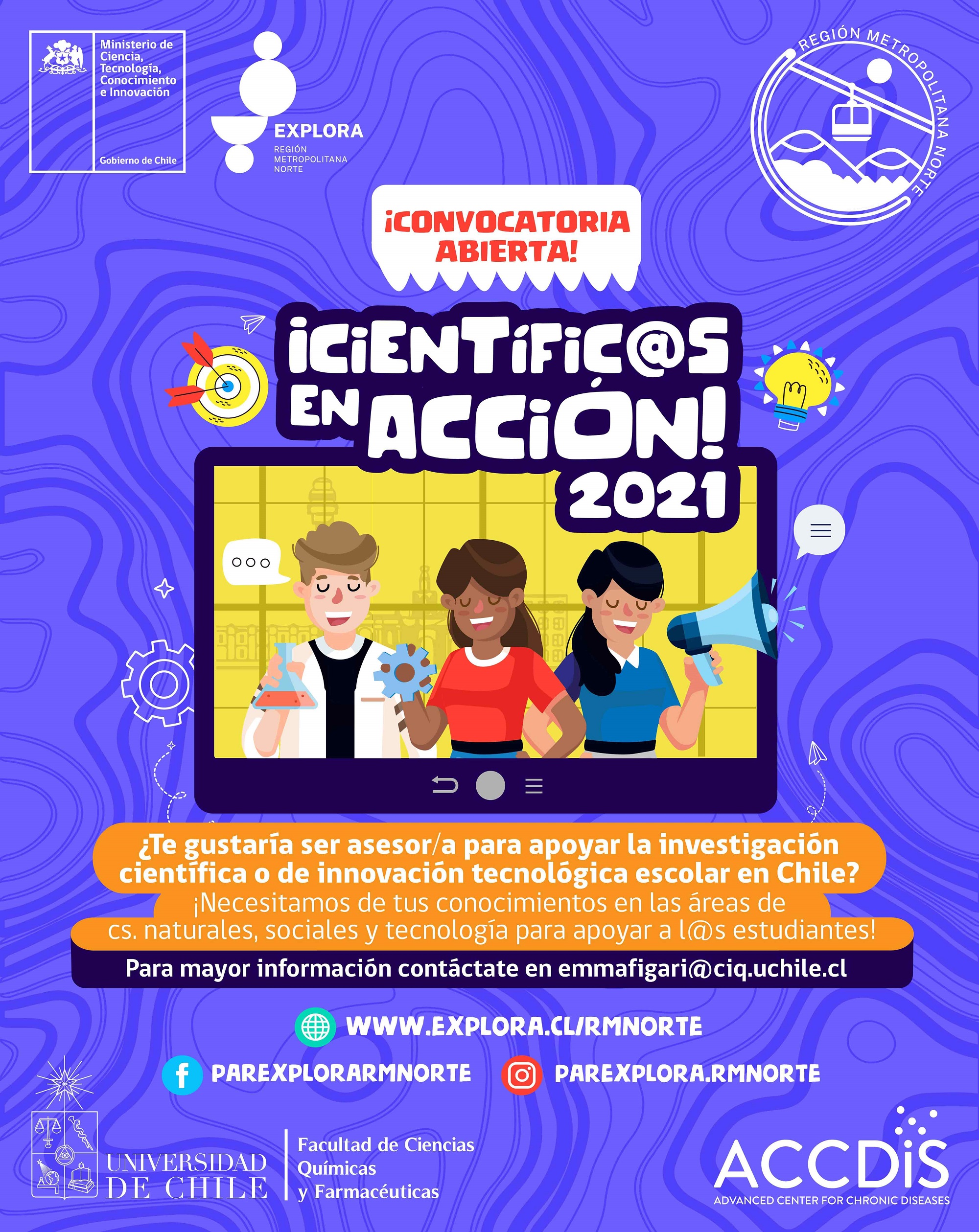 The scientific advisor must be a professional in the different areas of science, technology, arts and humanities that have the degree of Master or Doctor, who are currently pursuing postgraduate studies or who are specialists in the area of innovation and/or technology.
"From ACCDiS we are convinced that the sciences must come out of the four walls of the laboratory. That's why it's our responsibility as researchers, contribute to the development of integral individuals, understand and question the world around them," dr.. Sergio Lavandero, director of ACCDiS and academic at the University of Chile.
On the other hand, Emma Figari, in charge of the North MRI School Research and Innovation initiative, explained that the development of school research projects contributes to the scientific formulation of a clear and explicit purpose in students and also promotes a degree of commitment that combines responsibility, participation and teamwork. And besides,, encourages the development of scientific skills that not only create knowledge, but also develops skills and attitudes in students that serve them both to do scientific/technological research and to their lives.
Regarding the previous year's experience, Emma reported that she is very proud of all teachers and students, who despite the difficulties and obstacles of a first year of distance education succeeded in successfully completing and defending their research, reaching the development of 33 scientific/technological research initiatives in the NMR North. In addition, reported that, in this new modality, teams that participated last year can continue their research during this year.
He also added, this year will include the initiation of a pilot program for 1st and 4th basic students called Pilot "Mini Clubs", which seeks to encourage the participation of teachers of these levels and smaller students.
PIPE First Age Research Program - Social Sciences Module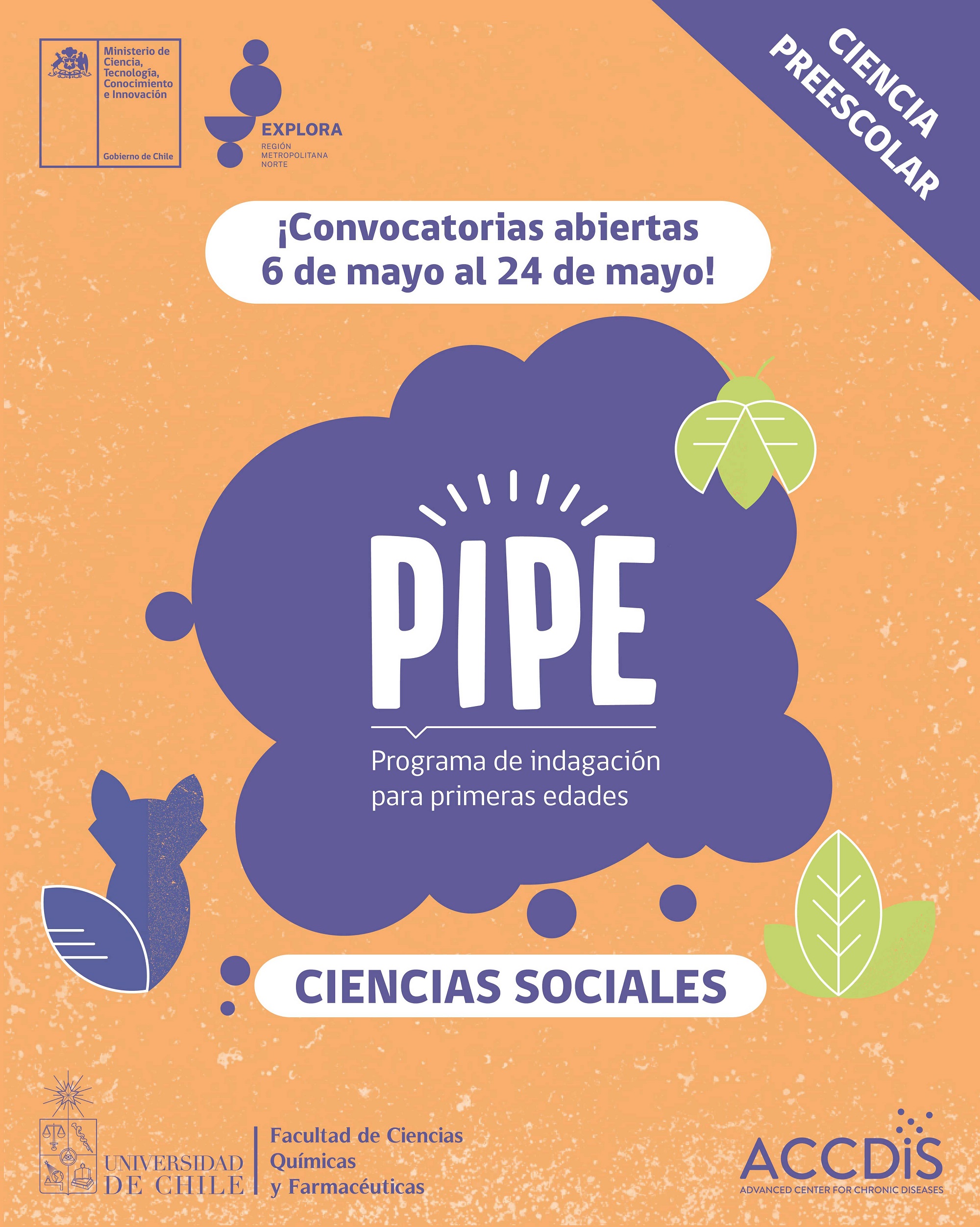 PIPE is a science and technology teaching initiative, aimed at the mid-levels, heterogeneous and transitional parvular education, who seeks to develop scientific skills in children. The development of these scientific skills will enable kindergarteners to know and understand the world around them through the development of indegatory learning experiences that enhance and channel age-like curiosity.
"Last year in our pilot version and in an online context, we had enriching experiences with 46 educators and more than 150 participating children, with which we were able to develop learning skills through the in-search, through four scientific competencies: act curiously, look for opportunities for indegation, discover solution alternative and experiment to answer questions, Maria Donoso reported, In charge of Preschool Sciences.
Mariana also explained that this year, back in online format, the module will be worked on social sciences, activities that also cross-integrate technology and the arts.
Selected people will receive a comprehensive online program and advice on science pedagogical tools and a materials kit to work with, explore and stimulate the curiosity of the little ones.
All Explora RM North initiatives, are free and only participants are required to. Such calls, are aimed at the 17 communes of the Project: Lo Barnechea, Ñuñoa, Providence, Pudahuel, Quilicura, Recoleta, Renca, Santiago, Tiltil, Vitacura, Hill, Conchalí, Huechuraba, Independencia, The Queen, Lampa and Las Condes.
Important dates
Closing of call for scientific school clubs: May 17, 2021
Closing of call Scientific Advisors: May 20, 2021
PIPE call closure: May 24, 2021
For more information go to www.explora.CL