Dr. Jaime Riquelme WINS academic contest of the Faculty of chemical and pharmaceutical sciences of the U. of Chile
March 28, 2019

Posted by:

ACCDIS

Category:

News

,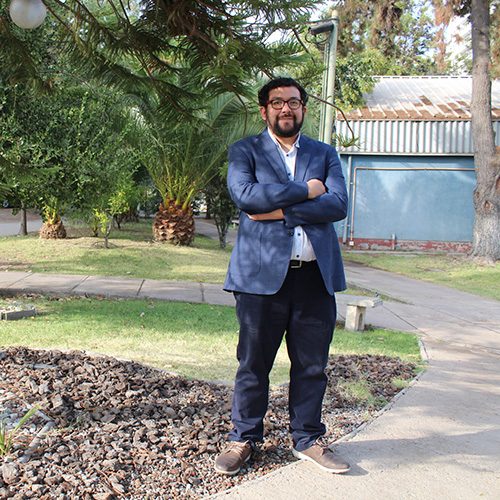 The start of the academic year 2019 at the Faculty of chemical and pharmaceutical sciences of the U. of Chile brought a series of changes and modifications in its academic plant. One of them is the incorporation of the Dr. Jaime Riquelme, ACCDiS contributor, as a teacher of the Department of pharmacological and toxicological chemistry lectures in the area of Pharmacology to biochemistry and chemistry and pharmacy careers.
In this respect, Dr. Riquelme said that "I did my dissertation and postdoctoral fellow in the cardiovascular research of ACCDiS, and I now turn to be a part of the Faculty of chemical and pharmaceutical sciences as academic and researcher, what no doubt will allow me to contribute much to ACCDiS from the scientific point of view and, on the other hand, the training I got in the Faculty and the Centre for advanced chronic diseases allows me to deliver very updated knowledge and who are in a place of advanced science worldwide".
In addition, Dr. Jaime Riquelme recently was awarded a Fondecyt's initiation 2019 project, contest which aims to finance, promote and strengthen the development of scientific and technological research of excellence by funding projects proposed by young researchers.
"I am currently starting a new line of research related to the endothelium, a cell type that is located in the cardiovascular system. Endothelial cells line the inside of blood vessels and in this sense, my work is related to the pharmacological regulation of endothelial function, in the context of cardiovascular diseases", says Dr. Riquelme, who also indicates the current possibility of work with thesis of undergraduate and master's degree in order to deliver the same academic training for excellence received as relevant and also, continue to develop research in this area of study.
Jaime Riquelme is veterinary doctor of the Catholic University of Temuco and doctor of Pharmacology of the Faculty of chemical and pharmaceutical sciences of the U. of Chile. He did his postdoctorate in ACCDiS and Hatter Cardiovascular Institute, dependent of the Institute of Cardiovascular Sciences of University College London in London, United Kingdom.