Virtual Race: Conversation "The SCIENCE of a Healthy Living"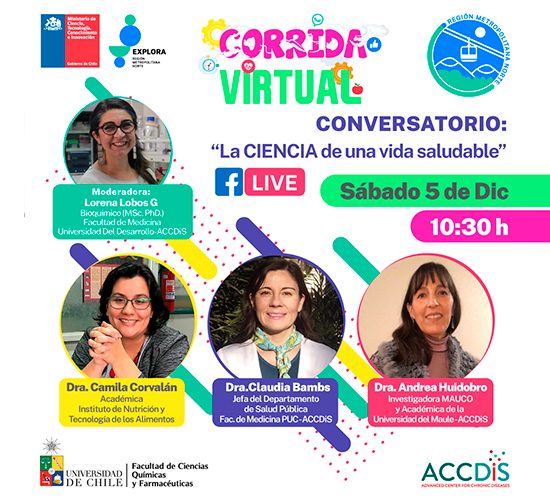 We invite you to the closing conversation of our PAR Explore RM North "The SCIENCE of a Healthy Life", who will talk to big exhibitors who will address interesting health issues.
The meeting will take place online, through your Facebook HTTPS:fb.me/e/hpMuFNVuB Saturday from 10 a.m.:30 a.m.. There they will talk about the development of public policies regarding chronic diseases, the tools we have today and what are the challenges we have to make; the importance of preventing diseases before they affect our health and finally the effects of the pandemic on chronic diseases, how to address them and what we can do to better cope.
As a moderator, our researcher ACCDIS Lorena Lobos will participate, Biochemistry of the Faculty of Medicine of the University of Development and as exhibitors: DRA. Andrea Huidobro, Nutritionist, Epidemiologist and director of the Department of Preclynic Sciences at maule Catholic University and ACCDIS researcher – MAUCO; DRA. Claudia Bambs, Physician specializing in internal medicine and epidemiologist. Head of Public Health at Pontificia Universidad Católica de Chile and researcher ACCDIS and DRa. Camila Corvalan: Director of the Center for Research in Food Environments and Obesity Prevention (CIAPEC), Institute of Nutrition and Food Technology academics (INTA) University of Chile