Action-Científic@s Advisory Clubs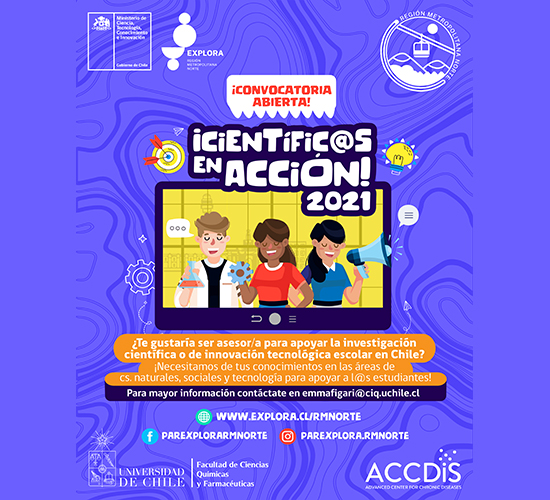 Our Explora RM Norte project invites all specialists to want to be advisors to a school research team to enroll until May 20!
We invite the entire scientific-technological community of the country to be part of the initiative "School Scientific Clubs Explore MRI" in the form of online scientific advisors. In this initiative students from 5th grade to 4th grade form teams led by their teachers ,and between the months of June-October formulate and implement a research or innovation project that arises from their own interest and motivations. For this process it is essential to accompany and guide specialists in areas related to their projects.
The students and teachers who are part of the clubs belong to educational establishments of the 17 communes that make up the explora RM Norte community.: Lo Barnechea, Ñuñoa, Providence, Pudahuel, Quilicura, Recoleta, Renca, Santiago, Tiltil, Vitacura, Hill, Conchalí, Huechuraba, Independencia, The Queen, Lampa and Las Condes.
Who can be scientific advisors?
The scientific advisor must be a professional in the different areas of science, technology, arts and humanities that have the degree of Master or Doctor, or either, who are currently pursuing postgraduate studies or who are specialists in the area of innovation and/or technology. He must be a motivated person., who want to contribute voluntarily and from their knowledge to children, girls and young scientists who are starting out at this stage of fundamental training.
The areas you can work on are as follows:
1) Research:
Natural and/or Exact Sciences: corresponds to research that addresses life sciences phenomena, Physical, Chemical, of the earth, Medical, health care, Agricultural, among others.
Social Sciences: corresponds to research that addresses phenomena of sociology, History, geography, economy, psychology, among others.
Arts and Humanities: research that addresses phenomena or problems related to the study of the human condition.
2) Innovación: scientific/technological solutions to problems identified by students.
Learn more at https://www.explora.cl/rmnorte/convocatoria-abierta-asesor-a-cientifics-en-accion/