Open Science, a space for dialogue with specialists on the disease and pandemic.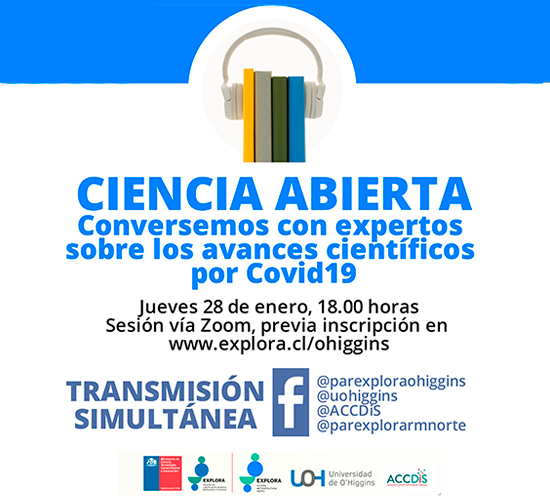 Researchers, Researchers, spreaders and spreaders from all over Chile give us their views on different themes on COVID-19. Let's get to know different visions and generate opinion.
More than 500,000 people get COVID-19 daily in the world. In Chile, virus spread projections exceed 4,000 daily contagions.
Why couldn't the second outbreak of contagion be contolate? What are the main information gaps affecting the population? What is the main problem with traceability? Are there models in other parts of the world that need to be replicated?, Have social and demographic factors affecting Sars-Cov-2 mortality changed?
These and other questions are what will seek to solve a multidisciplinary panel of specialists composed of María Soledad Burrone and María Teresa Solís, both from the Institute of Health Sciences at the University of O'Higgins; Valentina Parra and Mario Chiong from the Advanced Center for Chronic Diseases. Dr. Chiong is also Director of PAR Explora RM North. Rodrigo Verschae will also participate, Director of PAR Explora O'Higgins and the Institute of Engineering Sciences of UOH and Florence Trevy, GEDIS BIOTECH (Genomic Engineering, Design and Innovative Solutions).
Them, they and other scientists and scientists participated in the Science cycle and COVID-19, of the Open Science Podcast by PAR Explora O'Higgins, implemented by the University of O'Higgins and in partnership with ACCDIS and the PAR Explora RM Norte. The four chapters were conducted by journalist and spreader Andrea Obaid, broadcast on Radio DNA and are available on Spotify (https://open.spotify.com/show/2WLDYrBa46sPQeqf3K1nPl): "Virus and COVID", "Phases and care", "Vaccine" and "Mental Health".
If you want to delve into the virus and pandemic from a scientific perspective, the invitation is to register (https://forms.gle/YDe1xq2CaU6LA4CW8) conversation and dialogue with the experts, next Thursday, January 28, 18 a.m..00 hours. The conversation will be broadcast on social media of par Explora O'Higgins, UOH Community, ACCDIS and PAR Explore RM North.
The Ministry of Science's Explora O'Higgins Associative Project, Technology, Knowledge and innovation, is implemented by the University of O'Higgins with the mission of contributing to the creation of a scientific and technological culture in society, especially the school community, promoting the dissemination of scientific and technological research activities carried out in the region and in the country.