Mental health is a term that has taken on greater value in recent months, we started to hear it with the social outburst experienced in October last year and it starts to regain its strength with the pandemic, uncertainty being, fear, insecurity and stress the main feelings experienced by much of society.
During the last seminar organized by ACCDIS, talked to Dr. Constance Caneo, Psychiatrist, Master of Science in Mental Health Research at University College London, Professor of the Liaison Psychiatry and Psychosomatic Medicine Unit of the Department of Psychiatry of the Pontifical Catholic University of Chile, who addressed the current mental health landscape in COVID-19 times in Chile, defining as a general diagnosis the emergence of new terms and greater emphasis on other, as: Quarantines, health crisis, unemployment and inequality.
"You start to experience an imbalance between the routine, telework, changes to schedules and customs in social relations are also lost," commented the psychiatrist, who also pointed out that from the individual landscape we notice the concern to spread ourselves and health anxiety appears, that is, "chronic pathologies are neglected, increases depressive syndrome, substance use, obesity and bad eating habits," she said.
On the other hand, the doctor also commented that it is important to consider mental health to be a global issue, which also affects health workers, who face the pandemic on the front line "we have a high degree of stress, there is talk of at least 70% presence of insomnia, high rates of depression or trauma; fear of infecting our families, ethical conflicts between decision-making and other elements, they're certainly important to consider," emphasized the academic.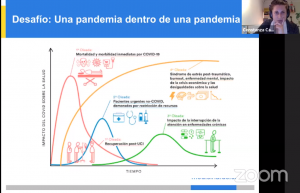 From the point of view of the challenge posed by this pandemic, Constance showed a graph showing the impact of COVID-19 on health, highlighting with an upward curve the mortality and lethality of the virus and then shows another growing and sustained curve over time that concerns mental health "which is worrying, this is related to post-traumatic stress syndromes, mental illness, impact of the economic crisis and health inequalities", Added Caneo, who also explained that another of the alarming curves, has to do with the interruption of care for chronic diseases and those critical non-COVID-19 patients who will be affected by resource constraints.
During the conversation the doctor took the opportunity to explain those answers that are considered normal by the human being, in the face of the experience of a crisis, as for example: Fear, Anger, Sadness, Impotence, Fault, Concern, Nightmares, muscle aches, Withdrawal, Distrust, discussions and others. "We are human and it is natural for these sensations to be presented, as long as they are transient and the positive thoughts are more than the negative ones," Constanza emphasized.
This led her to address the next question, what should we do when we feel this way? To which he replied, First of all, what is suggested is to build resilience to stress, we should try to have a healthy and healthy body that allows us to then get out of the crisis and face other situations "you can perform small meditation techniques, for example breaks of 5 to 10 minutes, he said.
Another important aspect is maintaining a healthy diet, "has been shown to, that junk food and consumption of few vegetables, generate more feeling of fatigue, tiredness and even anxious depressive symptoms". It is also necessary to respect sleep schedules, exercise, generate a sense of belonging and goals and finally, but no less important if necessary, ask for medical help.
Children and older adults
With regard to this group, the doctor offered a number of recommendations, Based on the importance of maintaining flexible routines, for example, the use of television, avoid news of coronavirus, incentivizing games in older adults, incorporate family members into kitchen or home work and maintain communication with friends and families.
See full seminar